Traveling often can really take a toll on personal relationships. Family and friends are a very important part of my life and the growing success of my initiatives, so I make every effort I can to maintain close and healthy relationships with the people that I love. Last month I went on none other than another long weekend trip with my best friend. Due to conflicting schedules, we wanted to stay relatively local  and decided on Bal Harbour – the northern tip of Miami Beach. To celebrate our friendship, the one year anniversary of Elona the Explorer, and the end of my best friends finals, we decided to treat ourselves by staying at the gem of Bal Harbour: The Ritz-Carlton. Proudly boasting its numerous attractive amenities, opulent atmosphere, and unparalleled with attention to detail,  The Ritz-Carlton Bal Harbour finds its popularity among some of the the most discerning travelers of the world. Find a cheap flight to Miami here.
After a warm welcome and a couple of Mimosa's, we headed to our room on the 18th floor. Every guest room in The Ritz-Carlton Bal Harbour has floor to ceiling windows that create a stunning backdrop not just for the room, but also the bathroom. If you've read my previous posts, you know that I am a sucker for beautiful bathtubs and picturesque views – and our bathroom quickly made the top of my list. 
The room has everything you need to make you feel comfortable and more importantly, like you're at home. A private terrace and massive floor to ceiling windows. A freestanding bath tub and oversized shower, both overlooking the ocean. Toiletries from Asprey, a dental kit (in case you forgot yours), a bottle of wine hand-picked from Napa Valley and, of course, a coffee machine (to name a few). 
Did I mention that the view is to die for ?
Our best friend getaway only got better when we gained access to our own private cabana – just steps away from the pool and beach. In complete privacy you can enjoy a warm bubbly hot tub, a TV, and a personal server who will cater to all your needs. The young servers who work by the beach and pool are an absolute pleasure to be around; every single one of them was genuinely warm and welcoming and tried incredibly hard to make our stay there as comfortable as possible. The latter is a vital trait that the genes of the Ritz-Carlton brand possesses. Private cabanas are the ultimate addition to any style of travel, whether a family vacation, a romantic getaway, or a weekend trip with your best friend !
The Ritz-Carlton Bal Harbour rests on the white sands at the tip of North Miami. The beautiful crystal clear waters of Miami beach are an absolute must & you can enjoy them from a beach side cabana. Similar to the private cabana, the service by the beach is unparalleled with: your needs are everyones priority. You can also enjoy complimentary sun tan lotion, a number of different SPF creams and fresh fruit infused water.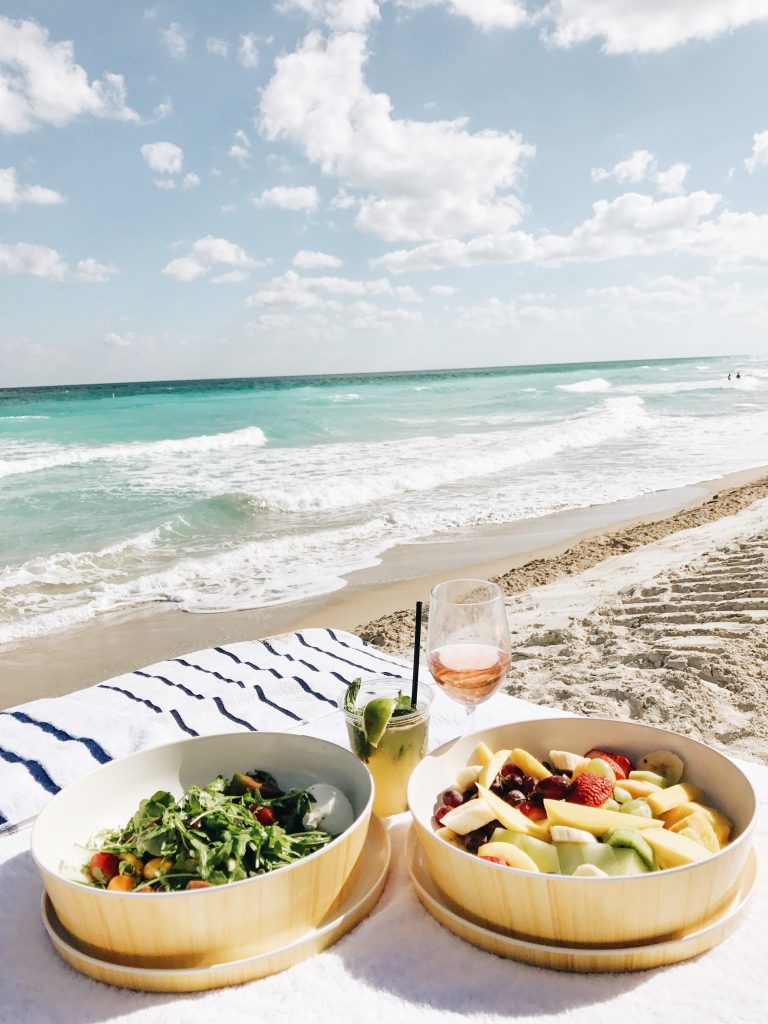 Our mornings started with yoga class with a backdrop of stunning ocean views. Exhale Bal Harbour offers a wide variety of relaxing treatments and fitness services on a daily basis including Cardio, Yoga, Barre and HIIT classes. The luxury spa and fitness center also boasts a sauna, steam room, nail salon and a fitness boutique. 
Besides working out at the fitness center, you can also enjoy the complimentary bikes to ride around the neighborhood!
– Breakfast –
I cannot even begin to brag about all the delicious meals we had during our stay ! The impressive breakfast menu at Bistro Bal Harbour has a incredible variety of breakfast options and, well, we tried most of them. Fresh farm ingredients make their way to the beautiful outdoor terrace to give you the ultimate breakfast with a view. In addition to fresh coffee and a delicious meal, there are also numerous media publications available to keep you up to speed the news.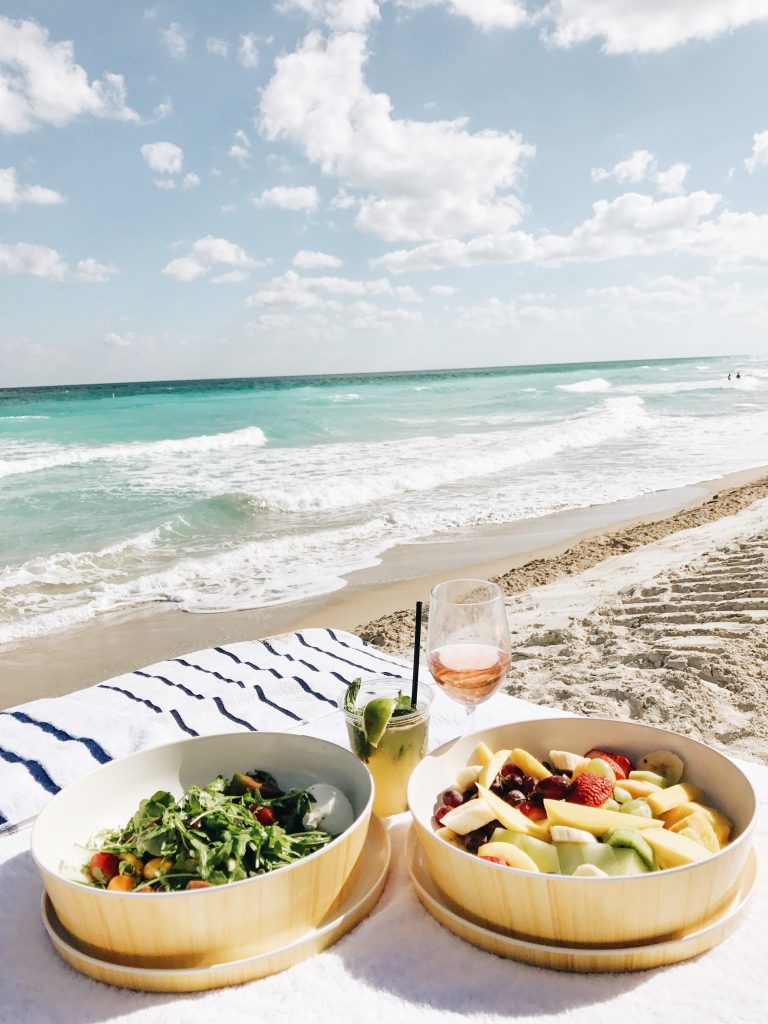 – Dinner –
The Bistro Bal Harbour has a wide selection of meals for any palette and of course, by being right on the water, The Bistro offers phenomenal sea-to-table specials every night. More importantly, there are over 50 wines to choose from ! Below are the highlights of our fantastic dinner.
What I love about this location is that its a secluded, luxurious, and quiet retreat away from hustle and bustle of South Beach, Miami. Even so, an Uber ride to South Beach will take only about 15-20 minutes and will cost you around $12. In fact, the Ritz-Carlton Bal Harbour is in a very desirable location: it is close to both the Miami International and the Fort Lauderdale airports and it's even closer to the famous Bal Harbour Shops. So close that they even offer "Couture Concierge," a personalized shopping experienced with a prominent personal shopper who will give you a very exclusive, one-on-one shopping experience at the nearby Bal Harbour Shops.
– Dinner at Makoto Bal Harbour –
On our last night we decided to explore the neighboring area and made our way to the Bal Harbour Shops. One of the best restaurants at the shops is an elegant, upscale Japanese restaurant called Makoto. If you're in the area, make sure to pay them a visit. Head Chef Makoto Okuwa appeared in The Food Network's "Iron Chef America" and received a New York Rising Star Chef award by StarChef.com. The restaurant has a beautiful outdoor seating area surrounded by palm trees and inside the vibe changes into a sleek and elegant atmosphere. The food is fantastic and I strongly recommend asking for a pre-fixe menu to get a taste of the wide variety of options the restaurant has to offer !
Find a cheap flight to Miami here
10295 Collins Ave,
Bal Harbour, FL 33154