I want to start this series by saying that this was the most magical trip I have ever been on. It is difficult to put into words, and you'll be able to see why later on, how beautiful a place can be. There is a lot of stigma associated with the Middle East, and I will challenge it here. As a white Jewish and female traveler I heard all sorts of variations of the same negative story. FALSE. I was treated like gold, everywhere. In hotels, restaurants, stores … touristy locations and local spots. I was treated with the utmost respect. And of course, I returned this noble gesture.
It is important to note that I believe in immersing myself in the culture of the places I visit. That said, I was extremely respectful of the Arabic Culture. I kept my shoulders covered, and my outfits were below the knees – conservative. It is not required to cover up completely, but I did it on multiple occasions out of respect and due to my own curiosity. It is like a gentleman's agreement of traveling : admire and honor another man's culture. So here goes, enjoy. Part III.
---
One Word: DUBAI.
Coming from NYC, I never thought that I'd find a city as vibrant, lively, large, and fun. Until I found Dubai. I can tell you it was love at first sight, or site. Either one works.
My outfit for the day as we prepare to go back to Dubai. The Jumeirah bag, which I used for a change of shoes, will save our day later on!
We arrive at the gorgeous Madinat Jumeirah, an Arabian Resort that is also a part of the Jumeirah Group like the one we were staying at in Abu Dhabi. It is also home to the Souk Madinat, where you can find hundreds of small shops form jewelry, to pearls, to silk, and souvenirs.
Since we were staying in a Jumeirah hotel, our Abra (boat) ride … was private … and free of charge. (When staff members saw my Jumeirah bag, they pulled us aside and told us it's our lucky day.)
The entire resort is on water. But if you're not into the resort type of thing … you can rent a villa.
And, of course, spectacular views of the Burj Al Arab were we had dinner the night before.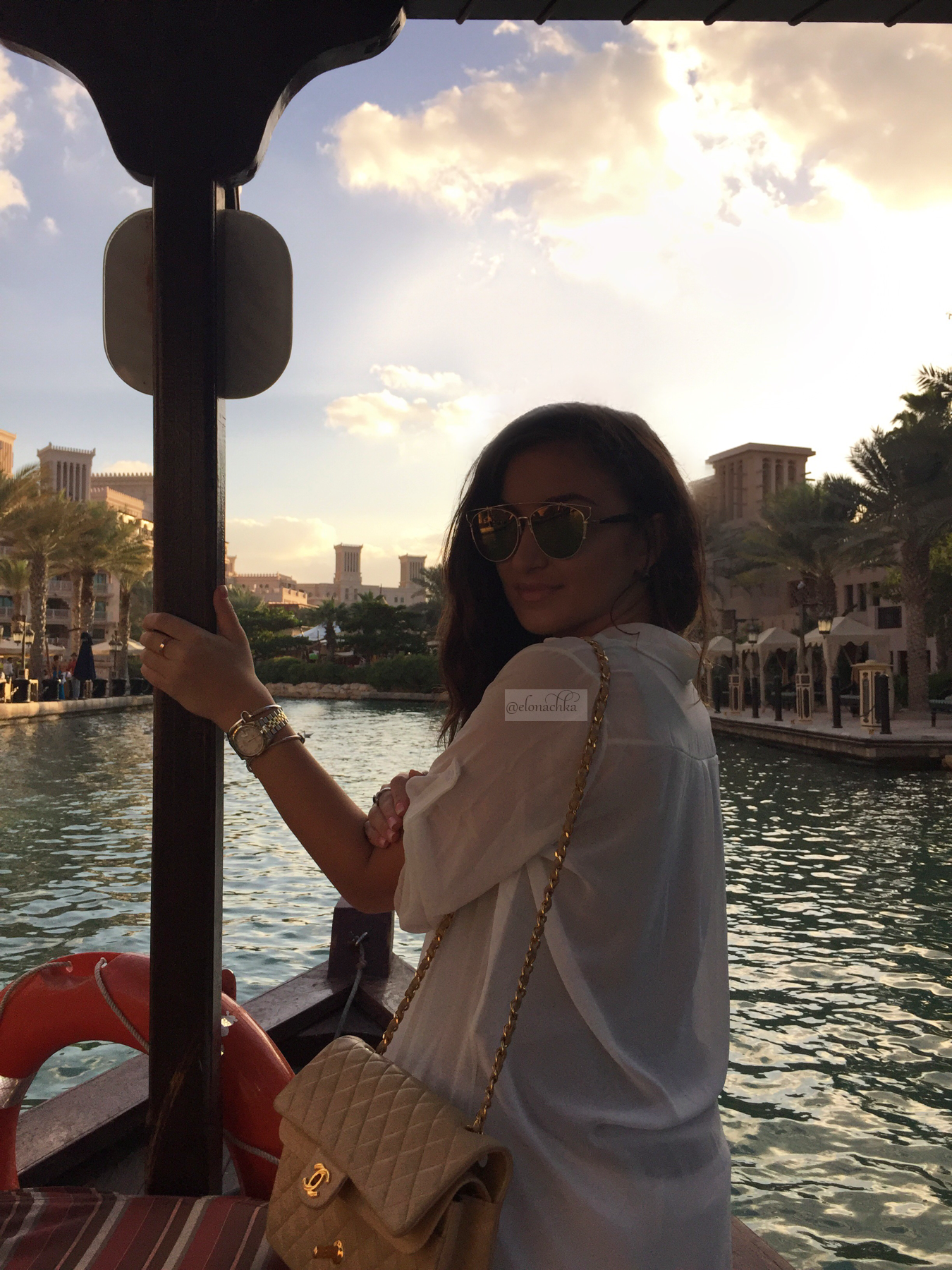 As the sun begins to set, we head to the Burj Khalifa.
At 163 floors, The Burj Khalifa is the tallest building in the world. Double that of the Empire State Building. The highest floor open to people is 148. We booked our ticket online to floor 148 the day before and it cost 300 AED or $100 per person. The cheaper option is 125 AED or about $35 and you can go as far as the 125th floor.
The 148th floor had a private lounge and a private waiter served us tea, coffee, and sweets.
On a cloudy day it is quite possible that on the 148th floor you will literally be in the clouds.
The Dubai Fountain show is one of the most popular in the world. We were lucky enough to see it from an Abra (boat) right on the front line.
Dinner was at a Lebanese hot spot called Wafi Gourmet. No alcohol, just Moroccan tea and shisha.
With a beautiful view of the Dubai Fountain show … which plays every half an hour after 6PM.
I couldn't get enough of Dubai. The culture, the people, the wealth … its like being in a fairytale.
Well … just wait till you see The Emirates Day 4. Part 4.