I was extremely lucky to have a very personalized experience, and my first Parisian 3 star Michelin experience at Le Bristol Hotel's L'Epicure Restaurant.
As you may tell from previous posts – I am a big foodie. From authentic street food to the crème de la crème – I am all about taste, service, and presentation. L'Epicure was a must in my book so before arriving in Paris, I made sure to email some of my friends and get my hands on the last of the limited space available for Saturday lunch. Here is a run through of my phenomenal experience.
I opted out for an A La Carte experience – hoping to avoid a hefty distribution of filling meals. Some compliments of the Chef to begin my dining itinerary. 
As an aperitif – which is typically served as a glass of alcohol to stimulate your appetite before a meal – I picked the best Chateauneuf Du Pape that was available by the glass. As expected, it did not disappoint (I was quite proud that I didn't need the help of a sommelier). I did a quick day trip to Chateauneuf Du Pape , one of my favorite wine locations on earth. So when in France, a glass from this small southeastern village is a must. 

Truffle pasta – compliments of the Chef. 
My first course was the black truffle macaroni – bloated with a rich combination of black truffle, artichoke and duck foie gras, gratinated with mature Parmesan cheese. .
My main course was a seasonal dish – John Dory , "Petit Bateau".
A selection of fine seasonal cheeses made its way to my table next. At this point, I am (surprisingly) having a hard time breathing. I pray that there is enough room for dessert. Contrary to popular belief – small dishes can, in fact, be quite filling. The a la carte option at L'Epicure had sizable entree sizes – which, when paired with chefs compliments as well as an appetizer, are very filling. 
As I struggle to catch any and every breath that my body can make – the dessert platter arrives. With some much needed tea – again, take note of the stellar service and beautiful presentation.
More compliments of the chef to help prepare my palette for the main dessert .
And some more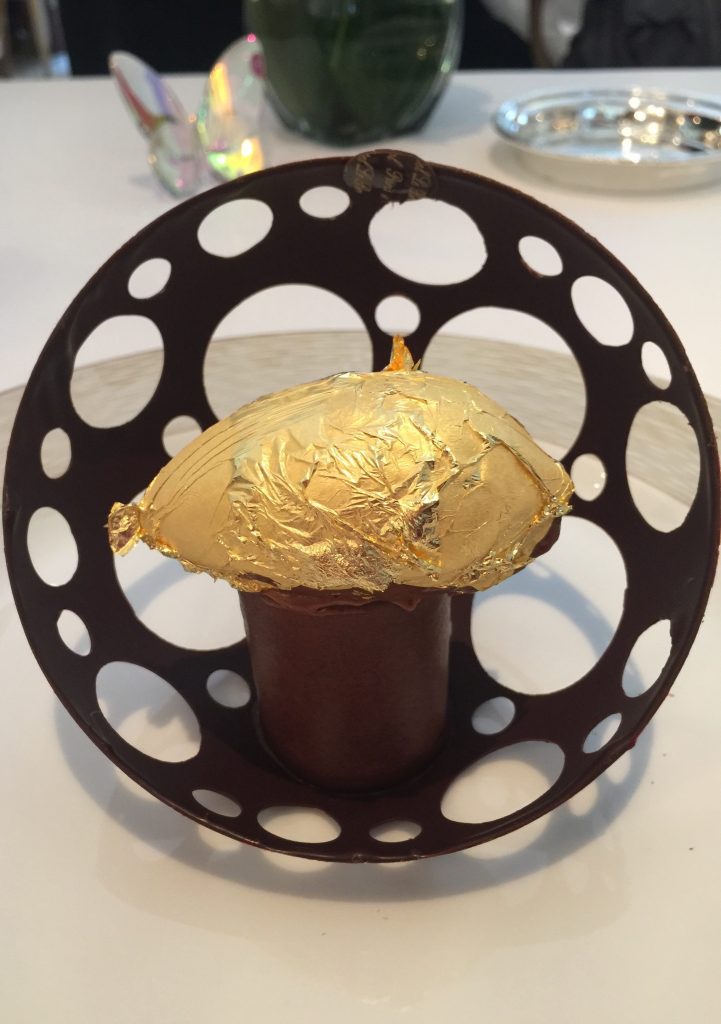 My love for chocolate is unparalleled with, so, of course, I requested the Priceless Nyangbo Chocolate – liquid cocoa, thin tile wafers and gold gilded sorbet.
After lunch I got a private tour of the kitchen. Unfortunately, Eric Frechon – the Michelin Star Head Chef at Epicure was not there at the time. Nevertheless the entire staff welcomed me with open arms.
The bottom line – It is said that Le Bristol's Epicure is the number one hotel restaurant … in the world. Such a claim certainly raises speculation, especially for those who have experienced magnificent culinary creations – in and out of the Michelin range. Parisian Michelin service is exemplary in the world of fine dining. There is so much to admire about Epicure – the infallible service, the beautiful and opulent comfort serving as a fabulous garnish to an impeccable meal. Need I say more ? Few places can rival the caliber of what Eric Frechon's culinary experience has to offer here at Epicure. Undeniably this was the best experience I've had – making its way to the top of my list of culinary endeavors.
To make a reservation please email [email protected] – reservations are strongly recommended.
112 Rue du Faubourg Saint-Honoré, 75008 Paris, France
.