Staying at the Rosewood Jeddah Hotel
If you are looking for a place to stay in Jeddah, add Rosewood Jeddah Hotel to the top of your list. Located in one of the most prestigious neighborhoods of the urban, commercial and artistic capital of Saudi Arabia, Rosewood Jeddah Hotel is an example of traditional luxury hospitality. The property is perfect for families and business travelers alike. There is a business center and executive boardrooms as well as a concierge that can arrange things like bilingual secretary or administrative support. Rosewood Jeddah also has a program for children called Rose Buds which includes everything from kids' menus to special events/ fun activities and even childproofing rooms (all you need is to give the hotel a heads up for everything to be arranged!)
The city of Jeddah rests comfortably on the coast of the Red Sea on the western side of The Kingdom of Saudi Arabia. It is home to pristine beaches and untouched, jaw-dropping diving spots. Unlike its more conservative and populous cousin, Riyadh, Jeddah is considered the most open city in Saudi Arabia. What does that mean? Well, like any warm destination near beautiful beaches, the energy is generally more laid back. Fewer men wear traditional attire, women cover up less and the city is vibrant, loud, and full of sculptures, restaurants, galleries, and cafes.
One of the best areas in Jeddah is undoubtedly the Corniche which, by definition, is a coastal road. In Jeddah, this coast runs for 30km and has a ton of recreation areas, cafes, restaurants, and tourist attractions. Rosewood Jeddah is located in the Ash Shati district of Jeddah, one of the top neighborhoods in the city for both residents and hospitality.
Rosewood Jeddah Hotel Room, Services and Amenities
I stayed in the beautiful Rosewood Suite, which stretches across 970 sq feet of the semi-circle shape of the hotel. The suite features a large living room area, a dining room, office workspace, and a separate bedroom. The room directly faces the sunset and the view is unbeatable!
LED screens with satellite channels
Touch-screen control for lighting, curtains, temperature, and butler service
LED televisions in all bathrooms
Espresso coffee machines
Internet access
National newspapers and magazines
Spacious marble bathroom + deep soaking tub
24-hour personal butler service
24-hour concierge service
Complimentary pressing of one set of garments upon arrival
Valet service
Butler wake-up call with tea or coffee
If you've been following me on Instagram or reading my blog for a while, you'd know how much I rave about the Middle East and particularly Middle Eastern hospitality. The staff at Rosewood Jeddah went beyond my wildest hospitality dreams. So much so that the butler even asked to unpack my luggage for me (which I politely declined). Every day there were fresh fruits and desserts delivered to my room and the staff made note of the ones I ate on the previous days & included more of them. At breakfast, I usually ordered sparkling water, so my fridge was stocked with the latter without me asking. On one occasion, I was straightening my hair in the living room and I left my straightener on the table. When I returned, there was a stand-alone mirror next to the straightener to make it more convenient for me to straighten my hair! Little things like these play a huge role and leave a sweet aftertaste for a long time.
The staff was wonderful from the security to the front desk, and housekeeping. Everyone said hello and smiled and any question or request was handled promptly. I truly experienced some of the most stellar service at this Rosewood!
Like in most hotels in Saudi Arabia, the pool area & the gym at Rosewood Jeddah are reserved for men only. There are women-only gyms and spas in the city that offer day passes. At sunset, the Sky Lounge (located around the outdoor pool) opens to everyone for drinks and bites. The minimum spend for guests is SAR 250 per person on weekdays & SAR 300 per person during weekends (Thursdays & Fridays). Although it can get windy, it is a very nice area to relax and enjoy the sunset with sweeping views over the corniche.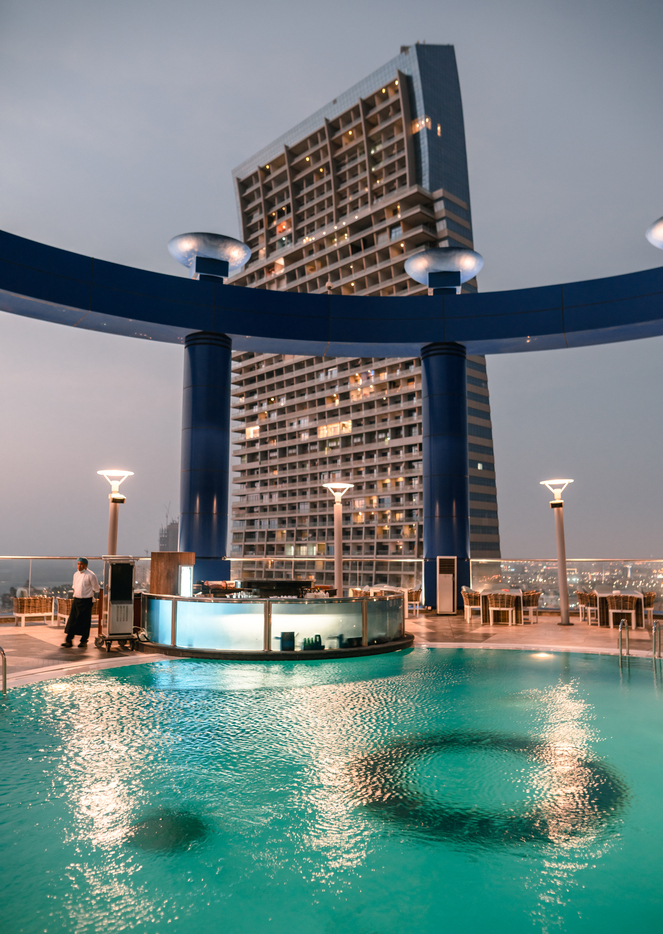 If you have a special occasion, you may reserve the Al Malaki Lounge Terrace, which is a private area at the very top of the hotel and shaped like a sail! There are two other dining areas at the hotel. Habsburg serves breakfast, lunch, and dinner in a buffet-style environment and has a mix of European, Western, and Middle Eastern cuisine. Finally, there is Soleil, on the ground floor of the hotel. Soleil brings Vienna to Jeddah and serves a variety of coffee, afternoon tea, and sweets. I had a cappuccino there every morning and highly recommend it!
Rosewood Jeddah Hotel Neighborhood
Jeddah Sign + Jeddah Corniche
Angelina Cafe
Fakieh Aquarium
Al Shallal Theme Park
Red Sea Mall
Boulevard KSA
Stars Avenue Mall
King Fahad Fountain
FAQ
1. Is alcohol served on the property?
Alcohol is not served anywhere in Saudi Arabia at the moment. That said, there are many delicious mocktails served in the hotel restaurants and lounges.
2. How do I dress on property grounds?
With the new laws in place, women are no longer required to wear abayas in public. My recommendation is to still wear one. These laws are still in their infancy and while you won't deal with any consequences for not wearing an abaya, overall you will be more comfortable in public and you'll draw less attention to yourself if you wear one. On the property, you should have your arms and legs covered (I suggest maxi dresses and maxi skirts – no leggings or skinny jeans). Men should refrain from wearing shorts. Pants, t-shirts, long sleeve shirts are ideal or traditional wear called a thawb.
No, the facilities on the property (ie. pool, gym) are for males only. The Sky Lounge, which is located at the pool area, opens around sunset and both men and women can visit for dinner and drinks.
4. Can unmarried couples stay at the hotel?
Foreign unmarried couples are allowed to stay together in one room.
5. How do I get to the hotel?
The King Abdulaziz International Airport (JED) is 20 minutes away by car. Metered taxis from the airport to the hotel are available downstairs outside the arrivals hall at King Abdulaziz International Airport and the price will be around $25 USD. Rosewood Jeddah offers a luxury chauffeured service that you can book in advance.
This post is not sponsored by Rosewood Jeddah Hotel. For transparency, I asked the property for a media rate in exchange for coverage. Media rates are typically a small percentage lower than the standard room rates. My original plan was to stay at the property for 5 days – I ended up staying for 10 because I truly enjoyed my time there so much. All opinions are honest and my own.