Europe is undoubtedly my favorite place to go to for a long weekend. Over the last year I've been looking for the best places in Europe that won't make my wallet cry and Belgium left my wallet gleaming with joy. Belgium is arguably the most underrated country in Europe. Nested in the middle of The Netherlands, Germany and France, Belgium will give you the best of all three worlds. It is a petite country that is rich with jaw dropping architecture, delicious food, and a simple system of transportation. Most importantly, it is very affordable and the perfect destination for a long weekend getaway.
I spent three nights/ four days in Belgium. During the long weekend I was able to see Brussels, Leuven, and Bruges. Realistically, I could've made it to Ghent as well but the weather just wasn't in my favor.
Cost Breakdown:
5-Star Hotel in Central Brussels: $100 per night x 3 nights = $300 (excluding city tax)
All other expenses including food & transportation: $250
Total Out of Pocket Cost:

$550
Brussels
It cost €8.8 to get from the Brussels airport (BRU) to the Central Station (Brussel-Centraal).  Taxi's are pricey and the train is not only reasonably priced, but it's also simple to navigate (it's a short straight ride from the airport to the Central Station) – it's a no brainer.
Conveniently located across the street from the Central station is the beautiful property of the Hilton Grand Place. As a matter of fact, this posh  hotel is located next to all the top sightseeing locations  in Brussels like the Grand Place, the Royal Museums of Fine Arts, the Manneken Pis and more. I cannot rave enough about the Hilton Grand Place – for just about $100 a night you can live in luxury and be near everything, eliminating the need to pay extra for transportation around Brussels. It is so close to the Grand Place that you can see it from your hotel room. I also recommend getting lounge access that offers a full breakfast in the morning, snacks and drinks all afternoon.
Their breakfast waffles are to die for.
Brussels is a very special city. It is unbelievably beautiful – I mean tear jerking beauty and jaw dropping architecture on virtually every block. Its fairly small and easy to navigate. Everyone speaks English so even if you do make a wrong turn, you don't need to worry about asking for directions!
When I walked into the Grand Place I could not believe that it is a real place. It is beautiful beyond belief. Make sure to check out the google map of locations I tagged for you to see in Belgium at the bottom of this page!
Worth the visit in Brussels is Delirium Cafe which is best known for its 2,000+ beer brands and it's appearance in the Guinness Book of World Records.
Leuven
I thought I saw some of the best architecture in the world in Brussels and boy was I wrong. About 15 minutes east of Brussels by train is Leuven, a petite college town that's home to the oldest Catholic University and the Stella Artois Brewery (amongst other things). Leuven is phenomenal: it is hip, it is vibrant and young students flood the centuries old cobblestone streets.
I found out about Leuven by accident, thanks to the concierge at the Hilton. All in all it was my favorite in Belgium. The picturesque city is small enough to see virtually in full in a day trip from Brussels and every block will be worth your time. The Town Hall, the Park Abbey, and the Kasteen van Arenberg are the some of the top sites.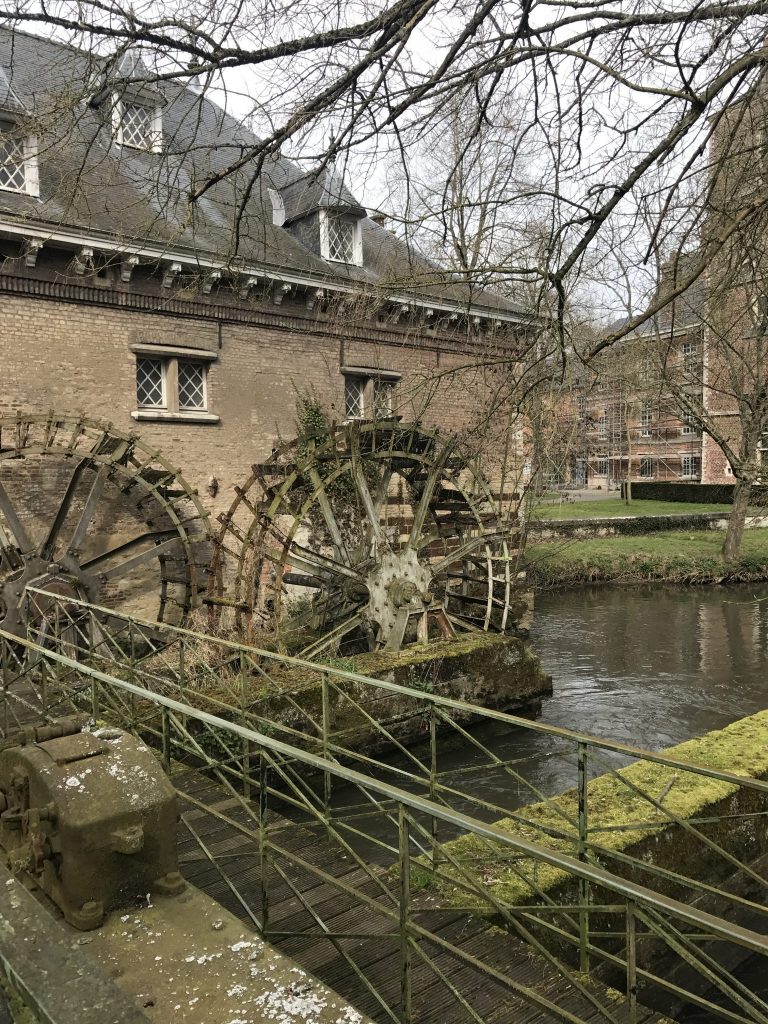 A day trip to Leuven would not be complete without a visit to Groot Begijnhof – a charming small town with a network of narrow streets, canals, greenery and architecture still preserved from as early as the 16th century. If you see anything in Leuven it should be this.
The food in Belgium certainly did not disappoint and at price points between €10 – €20 or less, I could not be happier. The meal below was €17 plus a €2.50 beer. And this is me splurging. For food, the best place to go to is Muntstraat, an attractive block of small restaurants and bars.
Bruges
Bruges  is a city in northwest Belgium about 40 minutes away from Brussels by train. Similar to Leuven, Bruge's cobblestone veins are lined with simple miniature houses and medieval architecture. Most people told me that Bruges is the most beautiful city in Belgium and without discounting its palpable beauty, I found Brugge to to be very touristy. That said, it is still absolutely worth the visit!
Dubbed "The Venice of the North", Bruges has an intricate waterway system running through the city. Bruges looks to me like a hybrid between Venice and Amsterdam, undeniably making the boat tour one of the most popular activities to do.
Also fairly small and walkable, Bruges is home to many fabulous sightseeing locations and beautiful side streets. Make sure to check out the map on the bottom of this post with some notable points of interest.
Perhaps the most satisfying part of my visit to Brugse was the portion size of the food. Below is a single portion of spaghetti bolognese. Yes, for one person (€12). This dish could've easily lasted me the entire long weekend and apparently this portion size is quite normal for food spots in Bruges!
Did I forget to mention something about Belgium? Comment below and help a fellow reader!