Before I start, I would like to point out three things:
I am not affiliated with TripMasters – but I think that I discovered the greatest booking website on earth. I highly, highly recommend using them for your upcoming trip(s). As a 22 year old fresh out of college and working a full time job – I constantly get asked how I can afford to travel so much. Without getting into too much detail – check out TripMasters and see the absolutely ridiculous deals that they have. Keep in mind you have the option to upgrade / downgrade your flights and hotels.(Thank Me Later – by subscribing to my blog and leaving some comments ! ).
All of the pictures on my blog posts are taken with an iphone 6 unless otherwise noted. For this trip I got a new toy: the DXO One – a little pricey but an awesome alternative to a big professional camera. It's tiny and works wonders. A nice investment to make if you want great quality pics that you can blow up onto a canvas for a lasting memory in your bedroom.
Lastly, I was really thrilled to discover the best alternative to Uber in France, called Free Cab. It is a free app available in both the iTunes store and the Android app store. It will soon be available across all of Europe and The United States – It's cheap for the customer and offers great benefits to its drivers (since I am huge on fairness in the game, this is a win win download). Works the same way as Uber but gives you a better bang for your buck. It has many services available besides cab ! Download it and get it on it as it will soon be available everywhere.
.
---
The first part of my first solo trip – solo from start to finish.
I went on my  first trip to France last September and I fell in love. This was the first time I came to a place that was completely foreign to me yet I still felt so at home. My trip to the French Riviera was short, but my love for France is infinite. So I came back 4 months later – this time to Paris. I booked a trip to Paris and Barcelona a couple of days before I was due to depart (as per usual). This was my first real solo trip from start to finish, 6 days.
Paris is divided into 20 arrondissements, or districts. If there is anything that you take away from this post: choose your district wisely. Paris is relatively small – even as a first timer I had a  good idea of what I wanted to see. My suggestion is to stay in the 1st arrondissement. Staying in the 1st arrondissement kept me at a walking distance from virtually every popular destination which is a huge plus. As many people suggested, I took the train from the airport to avoid rush hour traffic at 7 AM. Indeed it was very easy to buy a 10 Euro ticket and take one train line into the city center (my stop was Châtelet Les Halles). The train station was still about a five minute walk from my hotel. Not very convenient since I had a huge suitcase with me – but in retrospect that is still better than getting stuck in traffic.
This was unintentionally a great budget trip. I paid $1,100 for airfare from NYC to Paris, Paris to Barcelona, and Barcelona to NYC – AND hotels included. In Paris I stayed at the Odyssey by Elegancia – a boutique hotel right in the center. Although it's considered a 3-star, Expedia members rated it at 4.3 which is a solid statistic. In addition to that, I didn't have high expectations – all I really needed a hotel for was a to sleep and bathe in. I was pleasantly surprised: the hotel staff was very helpful and accommodating, the rooms were clean and compact. A little too compact for me, I ended up upgrading to a larger room because the closet was too small. Nevertheless the rooms had a very hip and futuristic design. And I was within 5 minutes of the Louvre – can't complain at all.
My upgraded room LITERALLY had a hole in the wall for the bed. Well, first time for everything right ? I am still not sure if I was shocked or thrilled about the rooms blueprint. But it definitely had a lot more space, so it worked out perfectly for me.
It was such a wonderful feeling to have the whole day to myself with no set itinerary. It definitely took me some time to really take it all in: I was in Paris. Finally.
I stumbled across the Louvre quite accidentally while walking around and looking for a place to have a bite … (told you I was close!)
After reading and re-reading Dan Brown's DaVinci Code multiple times, I was very excited to finally go inside.
The Louvre is an all day place to be. With that said, many people come there to see only what they want. It's true, seeing everything would be extremely tiring both physically and mentally.
I barely noticed how quickly 2.5 hours had passed – and I wasn't even done with the first wing.
And of course, Lisa del Giocondo herself.
She is actually quite small.
Napoleon's Rooms are an absolute must see.
Conveniently located in the Louvre is Mariage Frères, one of the greatest Tea Shops you can possible imagine.
You can tell by the menu, or should I say Encyclopedia, that you have entered Tea Heaven.
Tea's range anywhere from 8 to 50 Euro's and the staff is happy to help you pick a flavor based on your description of your taste buds. Brunch and snacks are also available on the menu.
After spending almost the whole day at the Louvre, I started to make my way to an early dinner at L'Avenue. L'Avenue is located in the 8th arrondissement – which geographically borders the 1st arrondissement on the left. The walk wasn't too bad – about 35 minutes considering  I made many stops to stop and enjoy the views of Jardin Des Tuileries & Place de la Concorde.
I made it (with NO GPS) woo !
L' Avenue is one of Paris's trendiest spots. For the latter standard – the service was not great. The restaurant was quite empty because it was an early dinner, yet the servers took incredibly long to come and to attend to my needs. It took nearly five minutes to even sit me down – not impressive (perhaps it was just one of those nights). Luckily, the food made up for it.  Their shrimp risotto was the best I ever had.
After dinner I walked around and stumbled upon the cutest cafe with this spectacular view. At 9 €'s per wine glass, and a heated outside area … well, and this stunning view. Chez Francis – I am sold. Finally got a glimpse of the Eiffel Tower for the first time.
The next day was the one I was really excited for. I made my way to Le Bristol Hotel for my first 3 star Michelin Experience at Epicure Restaurant.
As you can probably already tell from my past posts – I am a big foodie. From authentic street food to the top of the top in the world – I am all about top notch service and tasty ingredients. Epicure was a must in my book. Here is a run through of my PHENOMENAL experience.
I opted out for an A La Carte experience. This was the first "pre-appetizer" – offered by the restaurant to get your taste buds pumping.
As an aperitif – which is a glass of alcohol that stimulates your appetite – I picked the best Chateauneuf Du Pape that they had by the glass. At 40 €'s a glass, I assure you it did not disappoint. Check out my post about Chateauneuf Du Pape here.

Some more pre-appetizers as the staff carefully prepares my tummy – what a tease.
My first course was the stuffed macaroni – stuffed with a rich combination of black truffle, artichoke and duck foie gras, gratinated with mature Parmesan cheese. 
My main course was a seasonal dish – John Dory.
A selection of fine seasonal cheeses made its way to my table next. At this point, I am (surprisingly) having a hard time breathing. I pray that there is enough room for dessert.
As I struggle to catch any and every breath that my body can make – the dessert platter arrives. With some much needed tea – again, take note of the stellar service.
Not surprisingly at this point – I get my "pre-dessert" snack- you know, to clean out my pallette.
And one more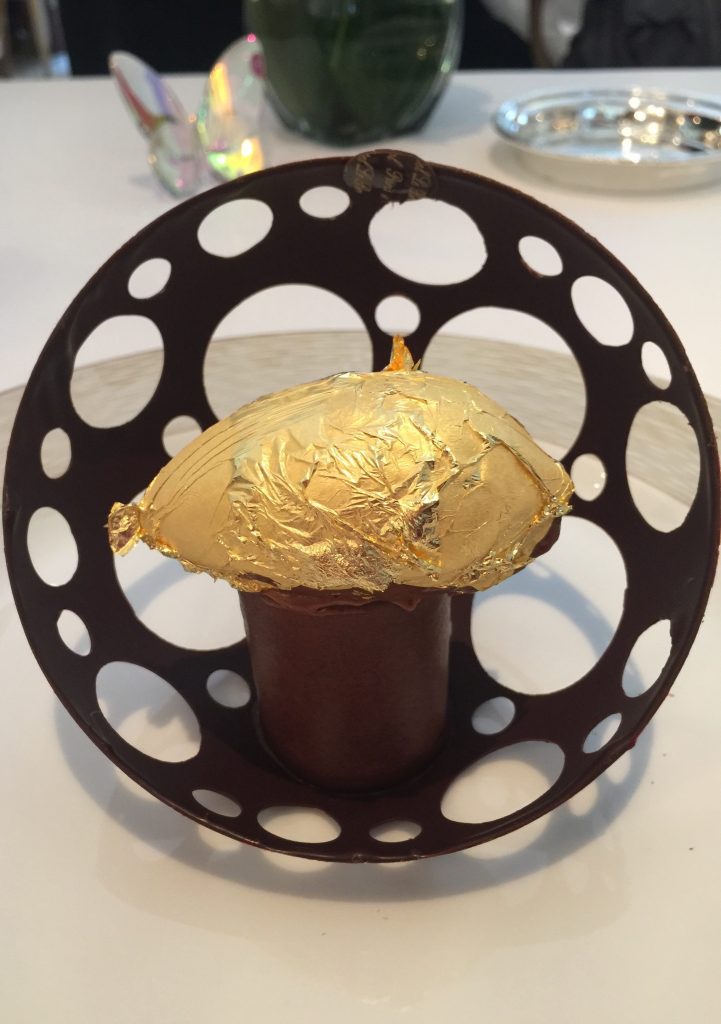 My love for chocolate is unparalleled with. I got the Priceless Nyangbo Chocolate – liquid cocoa, thin tile wafers and gold gilded sorbet.
After lunch I got a private tour of the kitchen. Unfortunately, Eric Frechon – the Michelin Star Chef at Epicure was not there at the time. Nevertheless the entire staff welcomed me with open arms.
The bottom line – It is said that Le Bristol's Epicure is the number one hotel restaurant … in the world. Such a claim certainly raises speculation, especially for someone who has experienced magnificent culinary creations – in and out of the Michelin range. Parisian Michelin service blows New York out of bounds. There is so much to admire about Epicure – the infallible service, the beautiful and opulent comfort serving as a fabulous garnish to an impeccable meal. Need I say more ? Few places can rival the calibre of what Eric Frechon's culinary experience has to offer here at Epicure. Undeniably this was the best experience I've had – making its way to the top of my list of culinary endeavors. It was worth every penny – costing just under 400 Euro's. To make a reservation please email 

[email protected]

 – reservations are strongly recommended.
After a fantastic start to my day I strolled around Paris – a happy girl indeed. To my luck – there was a free Louis Vuitton exhibition at the Grand Palais. 
I made my way all around … 
eventually getting on a "hop on hop off" boat for 16 Euro's which took me around Paris. 
And I couldn't wait to get a glimpse at the Louvre at its nighttime beautiful unrest
I had a great pleasure of being hosted at Matignon Paris – another popular hot spot that is part of the L'Avenue group.
And I don't typically go out – but when I do ..
The next day I went to the Palace of Versailles – which like the Louvre, requires almost a full day's commitment.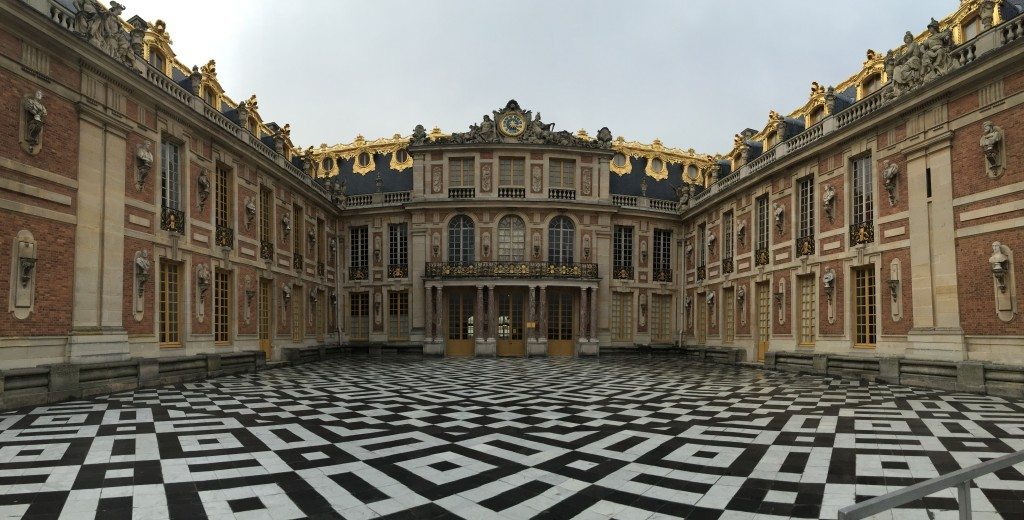 This is one of those places that is really, incredibly difficult to show in photos. The whole time I was there, I was trying to grasp how it is possible that someone actually lived there. I took some of these great shots on my DXO One – it is a pretty awesome alternative to a professional camera, and it attached directly to your iphone. 
And just as you think you have seen the most magnificent of it all …
I took an open air ride around the entire Versailles property for 7 Euros. It was a "hop on hop off style" ride which allowed me to see everything in about 40 minutes. 
The train ride from Versailles to the center of Paris was about 30 minutes long. 
I couldn't wait for some hot tea after walking around in the cold all day. 
And of course to finish my wonderful three day trip to Paris :