Here's how I caught the travel bug:
I just finished college and landed a full time job after a long internship at my firm. This was a cause for celebration; so I decided to treat my best friend (who also just graduated) to a small vacation. We watched the world unfold on a map, and we began to search for the best flight times & the best deals … it did not matter where we were going.
St.Thomas, The U.S.Virgin Islands – We left the next day (Friday) on a 7:30 AM flight and our flight back was that Monday at 5 PM. This was the first time I ever booked anything on such a short notice. Now, its the only way I travel.
We had no idea what we were getting ourselves into and we had no time to do any substantial research. I did, however, call the hotel and ask if transportation was available from the airport to the hotel. St.Thomas itself is a very small island (only about 32 square miles); our ride was about 20 minutes long to the opposite side of the island. It cost us $15 per person, and we soon found out that cabs in St.Thomas are like public transportation, and you pay on a per person basis.
Certainly, we made the right choice picking St.Thomas. We arrived at our hotel … only to find out that it wasn't a hotel after all: it was a villa. Rather, it was a tiny community of villas right on the beach.The UPside about it was that we had a whole apartment to ourself, patio and kitchen included. The DOWNside was that housekeeping was for an additional cost and toiletries like shampoo, conditioner, soap and toothpaste was not included. Our room was facing the most magnificent view, and we were just steps from the private beach, pool and restaurant.
The warm and welcoming staff members greeted us with some cold rum punch and vacation was in the air. The Point Pleasant Resort is located about 7 minutes away from the city's liveliest part called Red Hook. The resort also offers free shuttle service from the villa to Red Hook and back, until 8PM. That saved us a lot of money on cabs. Oh, and since St. Thomas is located on U.S Territory, our phone service worked perfectly.
We spent the whole first day on the beach, doing exactly what we came there to do: relax.
Our hotel shuttle took us to Red Hook, where we had dinner at Duffy's Love Shack, a Caribbean & seafood spot with a Mexican twist. We loved it so much that we came back the next night.
The most moving part of this trip was meeting people that were our age, who sold everything they had and moved to St.Thomas to just be free … and happy. To us it almost seems crazy, but to them it's life. It's easy, it's carefree, and its everything we wanted to feel during our time there. To them, its an everyday reality.
The next day we decided to take a trip to St.John, the second main island of the USVI. A 15 minute ferry ride was $5 each way.
Needless to say, we were blown away. St. John is home to some 25 different beaches, just in case you're like me and get bored easily. Thankfully, our hotel staff gave us advice on which ones were a must. We visited Cinnamon Bay, Trunk Bay, and Honeymoon Beach. Cabs, in the form of small open air safari trucks, were always available and drove around St.John's from one beach to the other. There were beaches for lovers, beaches for privacy, for drinking, for snorkeling … you name it !
Some beaches were DEFINITELY private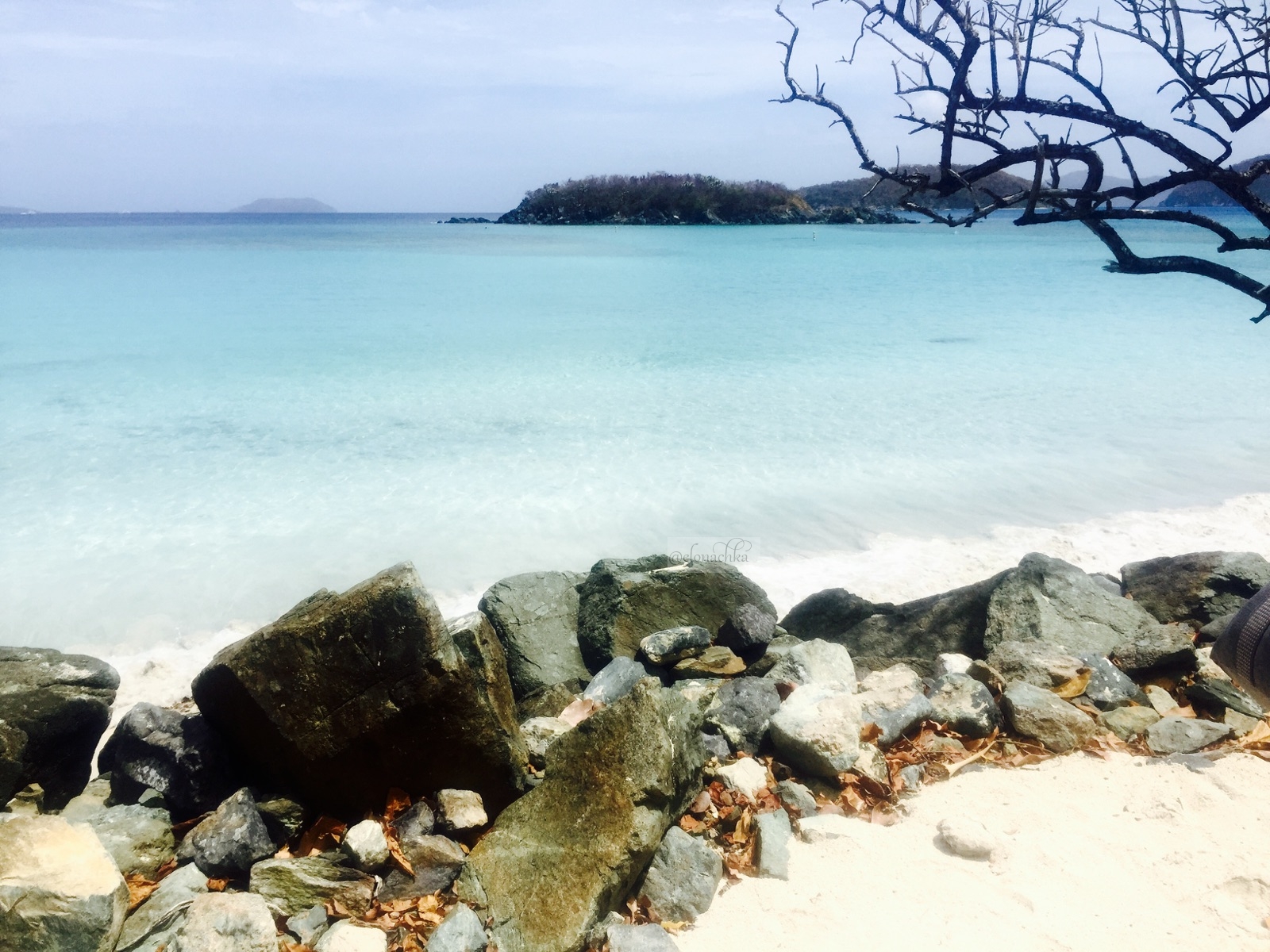 It's also not unusual to make some friends along the way.
As a matter of fact, Iguana's are regular guests even on city streets. And trust me, they are not scared of you … at all.
For lunch ? My favorite.
St.John was a blast! Its a very colorful and lively island and most importantly, it caters to every personal vacation preference. Whether a private villa, a beach resort, or a motel … St. John's has it, and its beautiful. We loved the fact that the beaches were very private and secluded and there was never that feeling of being in a sardine can with everyone else, if you know what I mean.
For dinner, we went back to Duffy's and it was just as good as the night before!
Our trip was quickly coming to an end and we decided to go on a real adventure. The staff at Point Pleasant was absolutely fantastic in that regard. They offered us a variety of tour options and told us about each one. We decided to go with the Bad Kitty. (And yes, the name definitely factored into our decision making process). We arrived at the Cruz Bay port at 7 AM and even my best friend, who is not a morning person at all, was very excited to visit 4 different islands in one day.
Where to even start ? The Bad Kitty was the best decision we made during our whole trip ! We had two young and very laid back tour guides, and the Captain, who also happened to be a comedian and kept us in good spirits throughout the all day tour. The cost of the trip was $155 plus an additional $45 for customs. Why customs you ask ? We were entering British land: The British Virgin Islands. The tour included a small breakfast, unlimited juices and drinks, and most importantly unlimited alcohol. (I'm Sold! ). First stop: The Baths at Virgin Gorda
The Baths at Virgin Gorda are a natural geologic formation of huge granite boulders piled on top of each other, creating a beautiful oasis of land and crystal clear water. The boulders are littered across the entire beach, some smaller than others. (At this point, my phone also falls into the Caribbean Sea and never comes back to life … at least we got this great pic right ?)
Looks beautiful, but climbing through all of that was no walk in the park.
The climb was so worth it.
We had plenty of time to enjoy the beauty of The Baths and to swim in them as well. Our next stops were Cooper and Norman Island's.
It's hard to imagine that after taking only a short hour long boat ride, we were on the land of a different government … where people spoke with a different accent … and accepted a different form of currency.
We ate lunch at a small restaurant in Cooper Island. Cooper Island only has five privately owned properties, and a small beach resort. It also doesn't have a permanent population, no body actually lives there.
We concluded our trip at the Jost Van Dyke, home to the Soggy Dollar. The Soggy Dollar Bar is a Caribbean classic known for the Painkiller drink. Since there is no port, boats dock a couple of feet away from shore so anything thats in your pockets will get wet by the time you get from your boat to land. The bar actually will accept wet money as a form of payment, and they'll salute you for it. It was the perfect end to our tour.
And we got some bad kitty tattoos.
In three days, we visited six different islands. We concluded our trip by going to Coki Beach in St.Thomas. It was about ten minutes away from our hotel. The weather was perfect and the water was crystal clear. I had a coconut in my hand and my best friend by my side. What more could I want?
This trip made me realize how much I want to travel, learn, and become an avid collector of memories. Since St.Thomas in June 2015, I visited six different countries and planned each trip just a few days in advance.
Special thank you to Daniella Smolyansky for documenting the majority of this trip with the most beautiful photos, as featured in this post.