"Am I really doing what I tell people I'm doing – traveling across the globe for just a few days ?" I think to myself as i scroll through a list of flights from NYC to "Everywhere". Sure, Europe for a weekend is definitely not something a lot of people would think to do, but that's not really "across the globe." I will find any reason to travel and this was an act of self fulfillment; practicing what I preach. So there I was – booking my flight to go across the globe, literally, for just 3 nights and 4 days.
I flew to Bali via Cathay Pacific. Nyc to Hong Kong (with a tech stop in Vancouver), Hong Kong to Bali. Total flight time was around 26 hours. 
Living in a treehouse in Bali has been on my bucket list for quite some time and for just $50, I was in the most magical treehouse I've ever seen. 
I booked a one night stay in a tree house through Airbnb. The hosts were incredibly friendly and welcoming. The treehouse was part of a small 5 property community and restaurant. The hosts offer step by step driving instructions (with pictures) to make it very easy to get to this secretive location. About forty minutes south of the airport and for just $18, this treehouse was a relatively convenient place to spend my first night. 
And yes, for those of you that are wondering, a toilet and a shower with warm water is part of the deal !
The property restaurant had a variety of food available – from traditional Balinese cuisine to an American continental breakfast. Food, like many other things in Bali, is very cheap. You can easily dine WELL on about $20 a day (and that's a generous approximation). The small locations that look the least presentable, turned out to be the most delicious ! 
As soon as you land on Bali's soil, you feel a sense of relaxation. Something in the air, the energy, and overall vibes creates comfort within. I spent my mornings laying around in a large hammock – swinging and taking in the serene beauty around me. I never quite felt such tranquility before. 
About 20 minutes walking distance from the treehouse is the popular Balangan Beach. The rainy season in Bali is over in March and the weather is very hot and very humid. I learned quickly that it is very important to stay hydrated and to limit the number of clothing I wore. So if you're walking to a beach – just stay in a swimsuit. It is perfectly normal ! Although you'll likely see many locals in longsleeves and even sweaters (I am still not sure why!) – and always have sunscreen on.
Every night you should make it a priority to watch the sunset. It seems like everyone in Bali comes out to watch it – a very unifying and stunning experience. 
Local spots, like the one above, have some of the cheapest and tastiest food choices. And things like water and gum can be as cheap as 10-30 cents. Don't judge a book by its cover ! 
The sister property of our tree house  gave us an awesome opportunity to use their pool, spa, and private beach.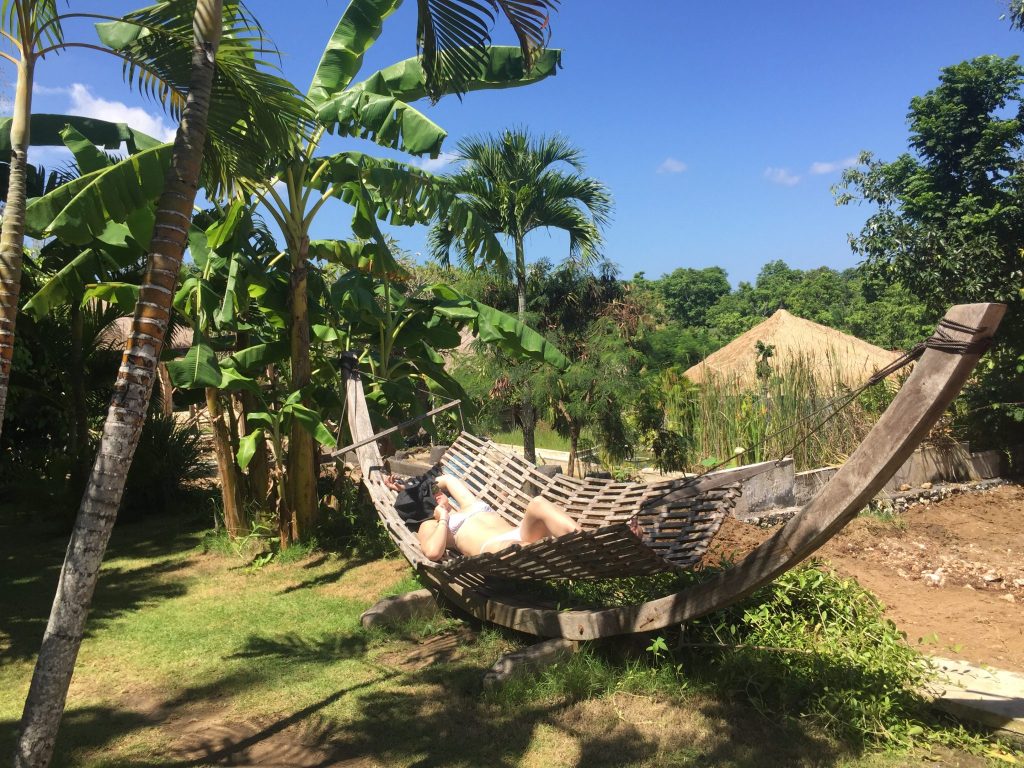 One of my best friends has lived in Bali for a month so I was lucky to get a local experience with her by my side. 
Later that day we went to Kuta, a village in south Bali that is also a tourist hotspot and one of the best areas for surfing. Along with the locals and tourists, we watched the gorgeous sunset on the beach.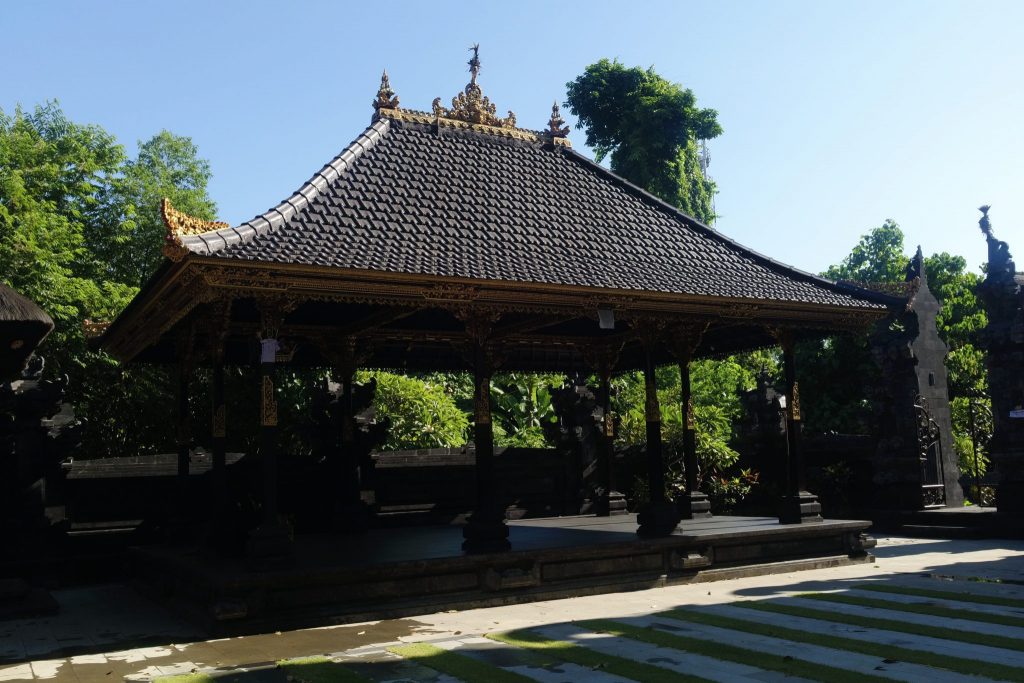 Bali is about 90% Hindu and it is extremely common to see stunning temples on almost every corner. While there are many popular temples, some of the best ones I saw were hidden in local villages like Kuta. The people in Bali are very kind and welcoming which opens up many opportunities to see these wonderful sights up close. 
The temples have an incredibly intricate design and structure – reflecting all the ideals, beliefs, and values of Hinduism on one site. 
The Elephant is one of the best known and most loved Hindu Gods. Also known as the elephant-headed Ganesh, this statue was casually standing in the front yard of someone's house. The young woman was kind enough to let us in and see it up close. Absolutely unbelievable !
Corn from stands like the one above was the most delicious meal I've had in Bali ! A must if you're there. In about 3 minutes, the corn is grilled with warm melted butter and local spices – unbeatable and only about a $1. 
At night we went to a Seminyak hotspot called Cocoon, an outdoor bar / pool party right by the beach. There you can enjoy drinks, food, and hookah all night without leaving the warm pool. For your convenience, pool donut floats are available so you can comfortably swim around the pool with your drink.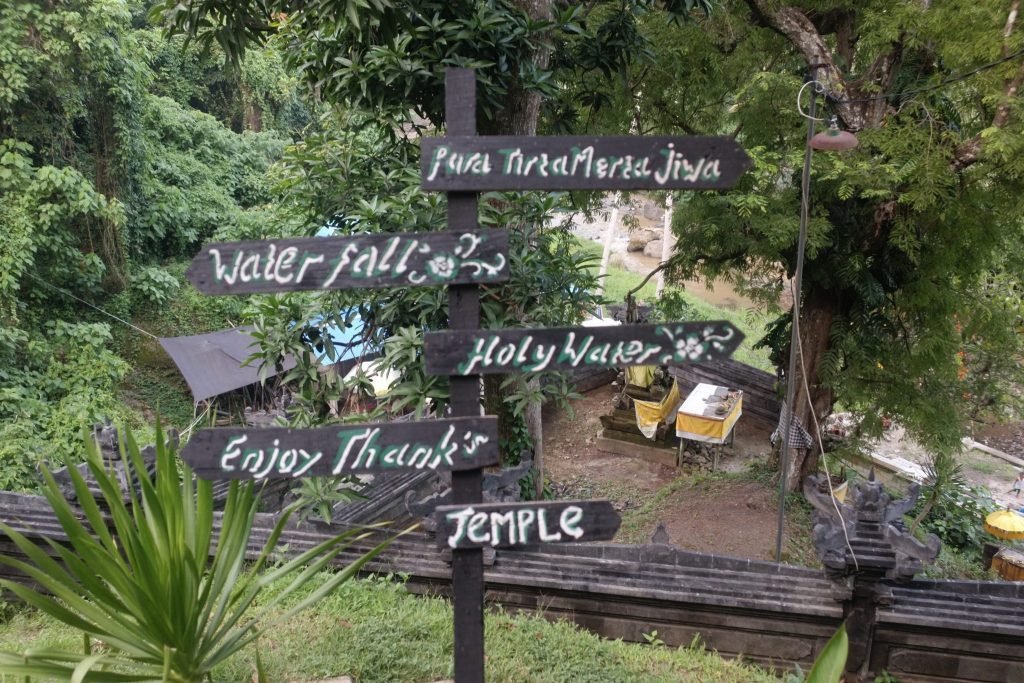 About an hour and a half north of Kuta is a town called Ubud – well known for its rain forests, rice fields, arts & crafts, and overall exemplary landscapes. The Tegenungan Waterfall, pictured above, is one of the most stunning I've ever seen. (You probably already know how much I love waterfalls – refer to my Iceland trip! )
Bathing in holy water ! 
A site like this is not unusual to see – women can carry dozens of pounds on their heads. FYI, she walked over 50 stairs. 
The Sacred Monkey Forest Sanctuary  is a really cool place to visit while in Ubud. A few words of advice: the monkeys look very cute and sweet from the side but they are very well aware that people have bananas. Keep your bananas hidden deep in a bag where they are out of sight – I had a small clutch and monkeys were jumping on me, ripping and biting my clutch apart to get to the bananas. They are dirty, so don't wear white (like I did). Don't try to hold them or grab them as they can get angry and in most cases their family members are around. Other than the latter, it's a really fun and unique experience – and the forest is astounding ! 
Click below to read more about where I stayed in Ubud. My hotel was so fantastic that I decided to dedicate an entire post to it, as part of the launch of my new Lifestyle blog !