Back in January I decided to take my first solo trip. Although I have been traveling alone since I was a kid, I never actually spent time exploring a foreign place alone. To say the least, solo traveling has opened up a new world to me – a world where I am comfortable being alone, a world where my imagination rose to new heights, a world of new found honesty and interpretation & ultimately a little glimpse into parts of myself that I did not now. I took my two part solo trip to Paris and Barcelona – I spent 3 days in Paris and 3 days in Barcelona. In Paris, I had a fairly good idea of what I wanted to see and do and eat. In Barcelona, I knew NOTHING. I did not know the names of the places I constantly saw in photographs, I did not know any of its famous streets, and certainly knew nothing about the restaurants. Coming to Barcelona, I was really an explorer. Little did I know, this was the perfect setup for a solo trip. Allow me to plead my case below. 
Vueling airlines got me to Barcelona early in the morning for about $60. You can fly using my itinerary here. I did not have to plan anything with regards to flights and hotels – and all my travel times conveniently brought me to where I needed to be in the early morning so I didn't lose any time!
Living in NYC really made me an A+ student when it comes to understanding public transportation in foreign places. However, Barcelona's train system is SUPER EASY. My hotel was next to the "Marina" stop on the red line (look south east). Barcelona's center is slightly to the left at the Catalunya station. Some other points of interest that I visited on my 3 day trip and that are conveniently located by the train stations are Arc de Triomf, Passeig de Gracia, Sagrada Familia, Lesseps (to Park Guell), Espanya, and Castell de Montjuic. It costs 20 Euro's to get a 3-day train pass – a very, very good investment and you can get 10% off when you purchase it online. Although everything is at a reasonable walking distance, it's a comforting feeling to know that you can get on the subway an unlimited number of times to go anywhere in Barcelona and not pay a premium for it. 
I knew close to nothing about Barcelona and where things were located. I had a full day ahead of me so I set out to explore. I took the train to the Universitat station on the red line with the assumption that Universitat means people will likely be University students a.k.a my age. Turns out, young people were everywhere in Barcelona ! From Universitat I just walked. Wandering around aimlessly, no plans, no expectations, just an open mind.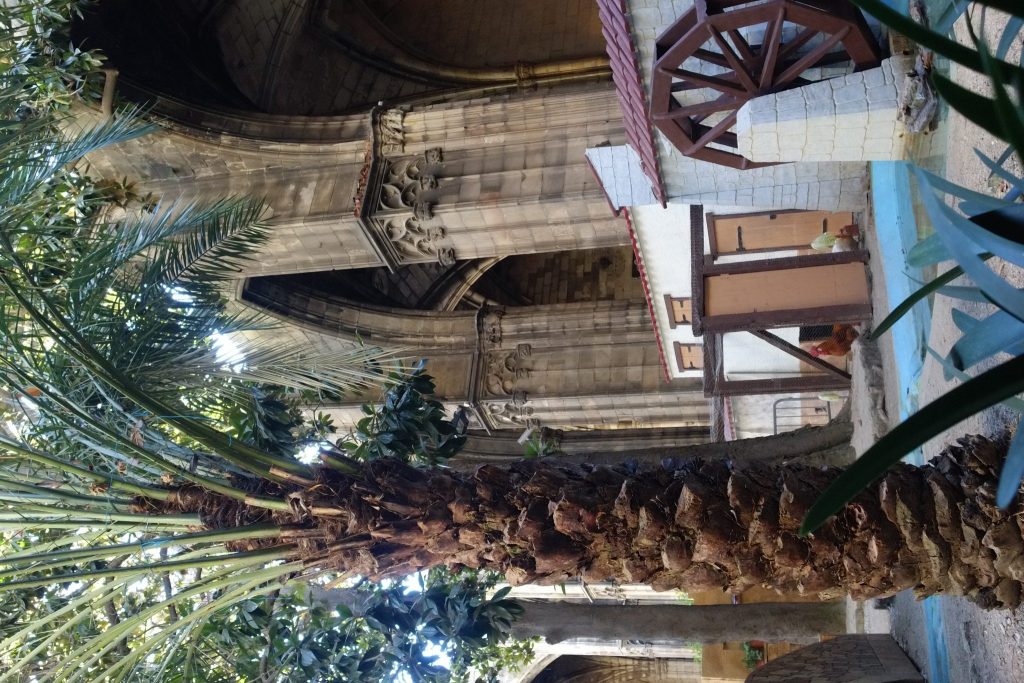 First stop was the Cathedral Basilica of Barcelona.
Many people wrongfully assume that it gets very boring being alone all the time – but how can you get bored in a place like this ?
Casually waiting for some coffee …
When you have an open mind, even the simplest things turn out to be amazing. 
I walked for a good 8 hours that day ! 
From the Arc de Triomphe in Paris -> to the Arc de Triomf in Barcelona ! The weather was in the low to mid sixties in the beginning of January. For the majority of the day I was very comfortable in a sweater, and in the sun it even got hot at times. Although January is considered to be off-season, I found it to be a wonderful time of the year. Many places had significantly less tourists and it was easy to get in and walk around otherwise very tourist-dense locations. 
The one thing I knew to look for in Barcelona was the unmistakable architecture of Antoni Gaudí. His work is some of the most stunning and creative I have ever seen, and likely will ever see in my entire life. The photos above are of Casa Batlló. This, by the way, is right off the Passeig de Gracia train station (purple, yellow, and green line). 
I booked a nighttime tour to La Pedrera – one of Gaudi's main residential buildings also on Passeig de Gracia, about two blocks up from Casa Batlló. The "After Dark" tour was phenomenal, and only cost 34 Euros – the tour was conveniently in English and included Champagne too!
I can't stress enough how amazing this tour was – an absolute must if you are in Barcelona. 
The next day I set off to Park Güell. You can take the green line to the Lesseps or Vallcarca station – but be prepared to walk ! 
Ok, maybe I am just a little obsessed with my camera ! 
I took the train back to Catalunya, where I had lunch. What I loved about Barcelona was that all of the restaurant's outside had fantastic lunch deals. In most of the places a choice of 3 different Tapas and a HUGE paella cost only 12 Euro's. (It was delicious). 
There is quite the comical selection of seeds you can buy ! 

I have never seen ANYTHING like this in my entire life. Welcome to The Sagrada Familia – The Masterpiece that Gaudi never saw fully finished. The silence and stillness inside the basilica is something I never felt before – the joining of common shock – the homogeneous and indistinguishable collection of faces that are in disbelief from the beauty, and the intricacy in front of them. You have to be there to feel it. 
On my last day I went to Parc de Montjuic – Right off the paral-el stop on the green line. I walked around for about 3-4 hours just in the park alone!
It felt nice to leave the city scene and enter a resort-like setting.
The Estadi Olímpic Barcelona, where the 1992 summer olympics were held, is free for guests to visit and explore !
Hours later I made it to Font Màgica de Montjuïc !
Unfortunately the Magic Fountain wasn't working  in off season =( 
Hot cocoa followed by dinner – and my saddened look knowing that it's my last night.
Barcelona is a fantastic solo trip destination. I was constantly so busy exploring, walking, and learning that I forgot I was alone ! I know that solo travel is a scary thought, and rightfully so. But it allows you to explore something very special: your mind. Keeping many of my thoughts in, I learned to analyze things differently. I learned to ponder, to think, and to rethink and to simply be honest with myself. It was a gratifying experience for sure.