Amazon has some really cheap prices on things that were ESSENTIAL during my trip. Check some of them out below – all the pictures on this thread were taken on the DXO One – one of my favorite toys. It's comparable to a professional camera, but it connects through an iphone.
[Hopefully] by now you are asking yourself the how, what, where, when, and why. How do I get there? What is that? Where is that? When can I go? and Why am I not there yet?
Follow me Iceland – only five hours away from NYC, on a direct flight. You can go there for just three days. It is the perfect weekend getaway. So I encourage you to, please, do what I did: take a friday off and book your flight to Iceland for a weekend. Now, let's get down to business.
I hate to start this thread with a generic Blue Lagoon photo – but there's a reason why it's the first thing to show up on an "Iceland" google search. It is a one of a kind sight – one of many that I found during my trip.
The water in the geothermal pool begins its way up from 2,000 meters below earth's surface, where freshwater and seawater combine at extremely high temperatures. It boasts itself a warm 38°C, making it a comfortable and pleasing dip in 38°F weather. The water is actually white, and its blueish color comes from the way the sunlight reflects upon it, and the steam around it. Hence, you see some different hues in the pictures above. 
I stayed at the Blue Lagoon Clinic – a five star hotel that is home to the Blue Lagoon itself. The amenities were actually quite simple and different than the typical five star treatment you'd expect. But what made it a good choice, was its exclusive access to the private lagoon. Much like the large one open to the public, but with way less people.
The water is not damaging to hair, per say. But it really, really dries it out. Because I didn't use conditioner prior to taking a dip, I could not control my hair afterwards at all (even after putting  a ton of conditioner in). Just something to keep in mind. The silica, algae, and  minerals also inject a very distinct smell into the air and skin products such as shampoo and soap. You will be able to tell this smell apart in many areas in Iceland!
Iceland formed after a volcanic eruption – lava formation can be seen all over the country. This is the view from my room!
The roads in Iceland are super easy to understand. I rented a car there using Thrifty – they gave me the best deal for a 4-wheel drive SUV compared to every other company. My Ford Edge was like my baby – as I spent hours driving it every day. With that said, make sure you rent a SUV (more suitable for the weather roads, especially in the winter) – you will spend a lot of time driving and stopping, so make your drive worthwhile. Meaning, make sure your seats can warm your behind – and pay the extra 10 Euro's for GPS.
Important to note that the most expensive thing in Iceland is gas – at $7 a gallon, it is an important expense to factor in your otherwise affordable trip. (Consider renting a Diesel car to save on gas).

The solid blue line is Route 1, also known as the Ring Road – you can take it all around Iceland. We were staying in Keflavik – on the first day we drove to Vik, from Vik to Reykjavik and from Reykjavik to Keflavik. On our second day we drove from Keflavik to [right about] Hofn – and back. Don't be discouraged by these long routes. Having a car and driving on your own time there is really, really worth it.
If there is any place in the world to road trip, it is definitely Iceland. Although I typically don't find long car rides enjoyable, I loved every minute of it in Iceland – even when I was tired and my eyes were shutting down and I couldn't feel my legs (side effects of exploring) – it was just so freaking BEAUTIFUL … EVERYWHERE I LOOKED!
Beware of the one car bridges – but don't be scared. The sign will look like the one above – slow down and look ahead to make sure no one else is driving. Yes, it is a bridge where only one car can pass #OnlyInIceland
We didn't see many cars on the highway (the main highway, must I emphasize that only has two lanes). An occasional bus, and a few cars that were right on the speed limit: 90 KM per hour.
We made many, many stops along our route to Vik, which is about 2.5 hours away from our hotel. Iceland is home to some stunning waterfalls, which were on the way. The photos above are from Seljalandsfoss, our first stop about an hour and forty minutes away from our hotel.
Here I am next to Skogafoss, our second stop, thirty minutes away from the Seljalandsfoss.
2.5 hours later we made it to Vik, where we found Black Sands Beach, the southernmost village in Iceland. The beautiful black volcanic sand makes Iceland's Black Sands Beach one of the greatest non-tropical beaches on Earth. I got some really, really nice shots there on my DXO One. But be careful because the waves are enormous in windy weather and as you're taking a picture they crawl up to you at extremely fast speeds.
Quite the picturesque view as we drive to Reykjavik for dinner.
One thing about Iceland that stuck with me the most is the fact that they have fantastic food – EVERYWHERE ! We didn't plan on making a big splurge so we often ate on the side of the road, gas stations, and small hotel restaurants. The food everywhere was wonderful. In Reykjavik we stumbled across The Fish Market a.k.a Fiskmarkadurinn, a pricey Icelandic hotspot. At about $100 a person, we had a huge meal and two drinks each – a bang for my buck. I felt like I wouldn't eat for the rest of my trip.
CAN WE PLEASE TALK ABOUT THIS DRINK  ?! yes, this is an actual drink ! Unforgettable.
The next day we were ready to go to the Vatnajokull Glacier – the LARGEST ice cap in Iceland (and one of the largest in Europe). We planned our whole day around a trip to Vatnajokull, which is almost 5 hours away from our hotel. I know that these driving times sound crazy, but it is really not as bad as it sounds. Driving on an empty road gives you many opportunities for random stops  and so much sightseeing that you forget how long your ride is. Plus, it is fairly cold outside so it feels nice to spend more time in the car and less time outside!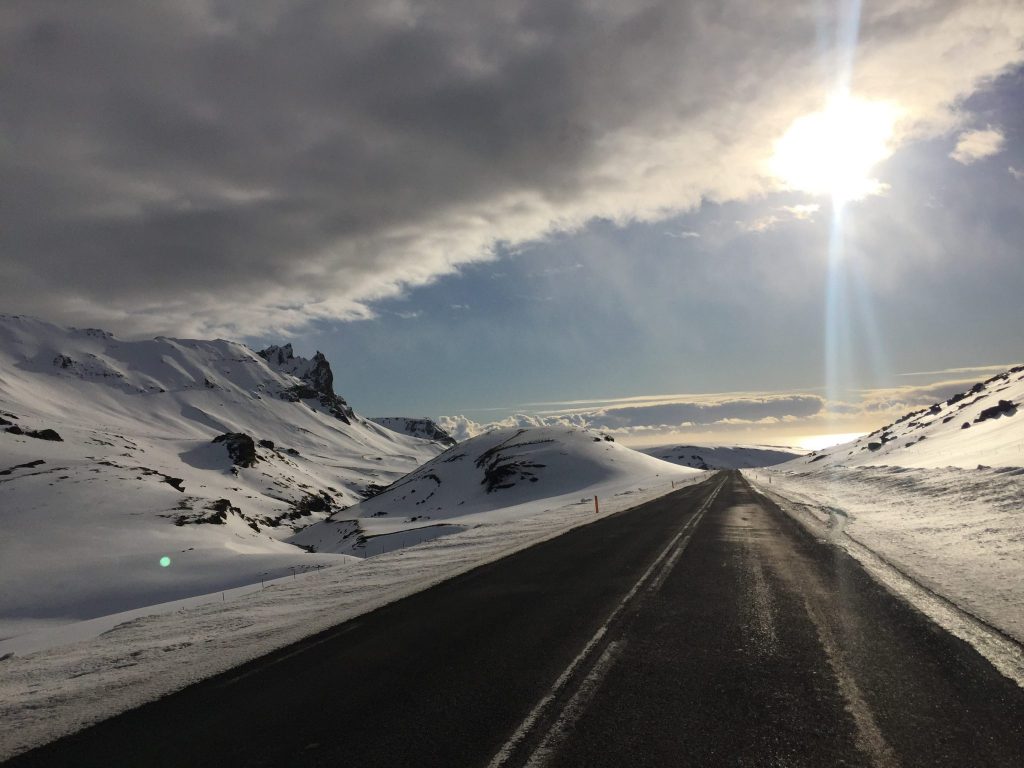 Some of my favorite shots from the trip were on this long road to the glacier. We were on our way to go Ice Caving – a must do activity in Iceland, that is not very easy to book. Important to note that this is not something you should or can do on your own because it isn't safe and tour guides thoroughly examine locations prior to the tours to make sure you are on the safest route.
I was very serious about my warming tactics and all the things people thought I was crazy for buying – turned out to be pretty useful! My polar socks, Canada Goose, smartphone gloves, and body warmer adhesives were the best accessories for this tour so I definitely recommend you buy them too !
Little did we know, our tour guide was taking us all the way up to that light blue area (about a 45 – hour long hike). Follow me as we head to the top !
This was not an easy activity so if you are planning on doing it or something similar, make sure you are physically fit, properly dressed, and a good walker.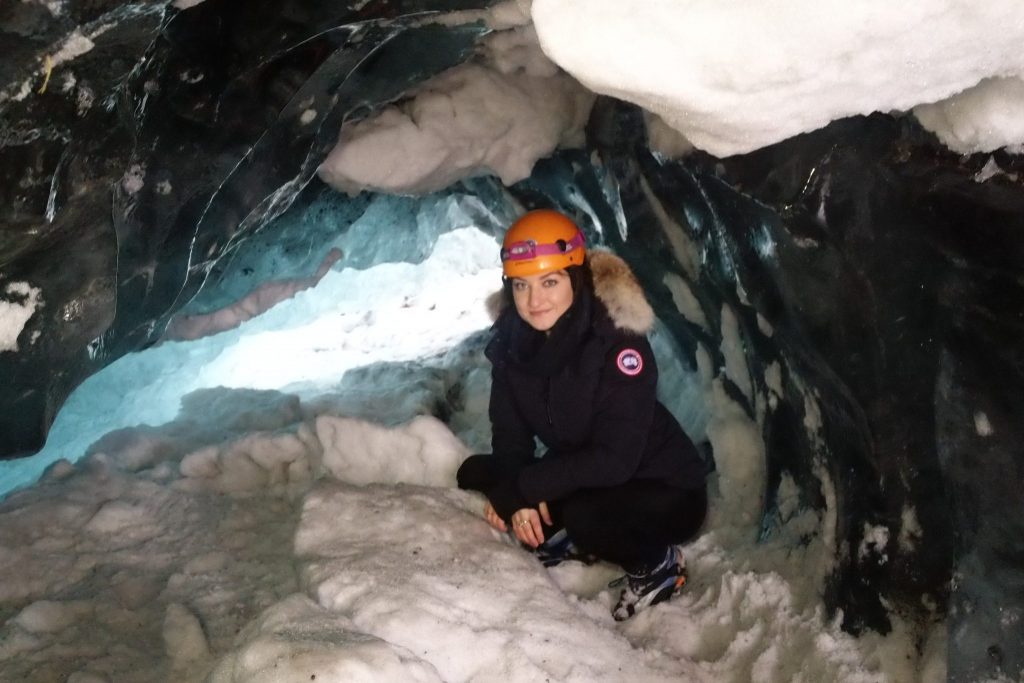 Ice Caves are only found during the wintertime when the glacial rivers retract and the water freezes.  New caves are formed in different locations each year. This tour is very dependant on weather conditions. Many ice caves were already melting away so we only got a chance to visit a few fairly small ones. There was literally no standing room and we had to crawl and squeeze into many of these locations.
The hike left me tired, sore, dirty,cold and even wet.
But for this view – it was all worth it. 
In reality, this is just a small collection of activities and sights that you will experience in Iceland. One of the things that I missed due to weather conditions, are the Northern Lights. A trip to Iceland is simply not complete without them so make sure to add a hunt for the Northern Lights to your list! 
Click edit button to change this text.