This is a tough post for me to write. Tough because this was the first time that I had some uncomfortable moments during my solo trip. Istanbul is such an incredible place; it is beautiful, it is lively, and it is home to some of the best tea and dessert I have ever had. I spent a mere 7 hours in Istanbul on a layover flight from Israel to NYC. If you are traveling to Turkey, here are some things you can do in 7 hours in Istanbul and how you can avoid some of the obstacles I faced.
Don't Take Cabs
Istanbul is notorious for bad traffic and you should avoid it on all costs especially on a layover. Luckily their public transportation system is incredibly easy. There were a few places I had enough time to see on my layover and I planned accordingly. You'll want to star on the bottom left (airport station) and take it 6 stops to Zeytinburnu. There you transfer to the blue line and take it to the Grand Bazaar (bottom right). The total travel time is about 35-40 minutes above ground so you get to see a big part of the city life. The cost is 4 Turkish Lira's which is right about $1.50.
The Grand Bazaar
This is one of the largest markets in the entire world with over 5,000 shops of all sizes. The Grand Bazaar is an absolute must when in Istanbul. I came early in the day when there were not that many people there – a typical day there can have up to 400,000 people! All the merchants will try to sell you on something so be prepared to get pulled into every direction. Keep your belongings in sight at all times and don't have any expensive things out because you become attractive to sellers. As a solo female traveler at the Grand Bazaar, I felt harassed by shopkeepers so much so that some even grabbed my arm to pull me in to their stores. It was incredibly uncomfortable and difficult to avoid!
The Blue Mosque
About 15 min walking from the Grand Bazaar is the Sultan Ahmed Mosque – probably one of the most picture perfect places I have ever seen.  I suggest coming around mid morning because prayer happens five times a day and the Mosque closes closes for an hour and a half during each prayer. DO NOT trust anyone outside who offers you tickets to get inside – there is no entrance fee to visit the Mosque. Please be respectful of native culture and dress appropriately. Shoes have to be taken off prior to entrance. Men have to be in full pants, women have to have their heads covered as well we shoulders and legs.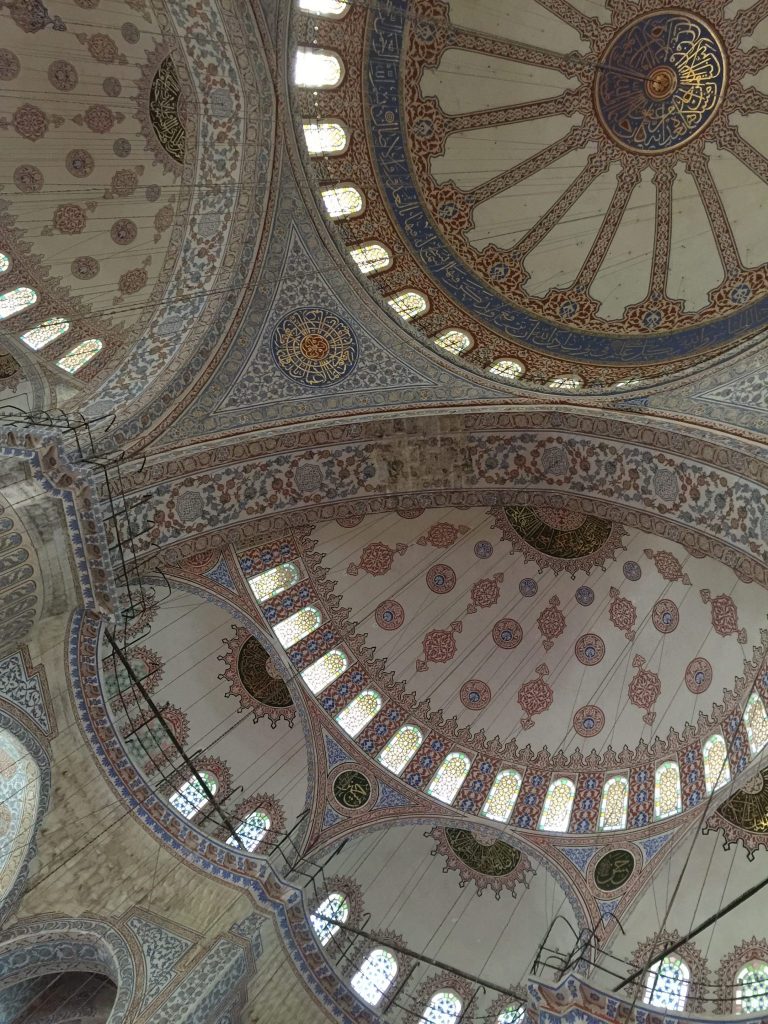 Don't Ask Strangers to Take Pictures
Many local shop owners stand outside of tourist attractions offering to take your photo. These people will get on their knees and lay down if they have to get the perfect shot of you. As enticing as this sounds, they really just want to lure you into their store. They will wait for at the exit after you finishing touring a location and remind you to come to their store. This is incredibly uncomfortable and not safe. If you want someone to take your photo, seek out obvious tourists and ask them. 
Hagia Sophia
Just steps away from the Blue Mosque is another grand architectural beauty called the Hagia Sophia – initially a Greek Orthodox Christian Church, later converted into a Mosque. The entrance to the Hagia Sophia is about $14.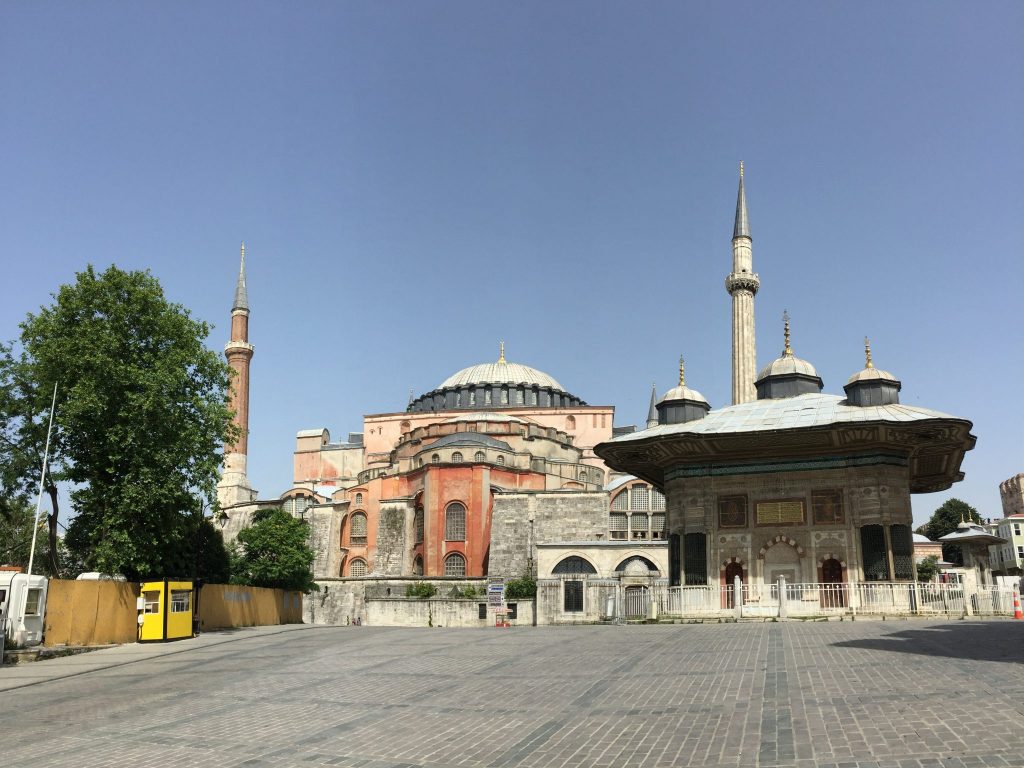 Walk Over to the Topkapi Palace
From the Hagia Sophia I suggest taking a 15 minute walk to the Topkapi Palace – where Ottoman Sultans lived for over 400 years. The walk will take you through beautiful garden's and landscapes of Turkey. The entrance fee into the place is about $12.
Colorful Streets of Istanbul
I absolutely LOVE colorful houses and I was pleasantly surprised to find many blocks such as the one below in Istanbul. Many of these small streets are home to shops and restaurants and locals – it is definitely important to once again be mindful of your belongings and if you are alone, I suggest avoiding conversation.
TEA.
Turkish tea's are some of the world's best. Tea is a unique part of Turkish culture and Turkish cuisine. A trip to Turkey will not be complete without some special local sweets -paired with çay (Turkish tea).
If you are flying via Turkish Airlines and your layover is at least 6 hours, you are eligible for FREE tour that is put together by Turkish Airlines and a local tour company.