I never thought that I would be able to write about a 5-star property that has huge rooms, floor to ceiling windows with sweeping views of Hong Kong Bay, an incredible infinity pool and numerous dining options … at a price as low as $150 a night. The Kerry Hotel in Hong Kong, a Shangri-La Hotel, has done my entire job for me through the opening line of this post – it is one of the most fantastic properties I've ever stayed at and an absolute no brainer for your trip to Hong Kong. The Kerry Hotel opened its doors to guests in April 2017 and is the first hotel I've stayed at that is relatively untouched, and immaculate.  Most of the rooms at the The Kerry Hotel face Victoria Harbour and the Hong Kong Island – allowing guests to enjoy incredible panoramic views when they go to sleep … and when they wake up.
The Kerry Hotel is located on the side of Kowloon Bay. Kowloon and Hong Kong Island are the two vital parts of Hong Kong that are split by Hong Kong Harbour. Many locals believe that Kowloon is more authentic and more Chinese and you can certainly see that many buildings on the Kowloon side are older and the streets are not as posh. The reality is that Kowloon Bay and Hong Kong Island are so close to each other and with various transportation available – staying on either side will not change the dynamic of your trip. As a matter of fact, I spent most of my time on the Kowloon side: The Kerry Hotel is conveniently located near Tsim Sha Tsui, one of the trendiest spots in Hong Kong with hotels, shops and museums, Mong Kok is one of the hottest market places in Hong Kong and home to some of the top (and cheapest) Michelin starred restaurants in the world.  Most of the hottest food spots in Hong Kong are also located on the Kowloon side. Bottom line: stay in Kowloon,  and visit Hong Kong Island!
The Kerry Hotel is a stunning modern property with many large open spaces, plenty of greenery and natural daylight. There are gardens and cafe's and seating areas where you can simply enjoy the views of the harbor … and the ferry terminal is literally right in front of the property. Needless to say, the location can't be more perfect: the hotel is right on Victoria Harbour, next to multiple trains, and stores and places of interest. After talking to the General Manager of the property, I realized that they are positioning their brand in a very unique way: by offering affordable contemporary luxury in a casual and relaxed environment. Contrary to popular notions that five star hospitality is sometimes too ritzy and posh, The Kerry Hotel challenges the latter by giving guests a pleasurable space and an up-scale experience.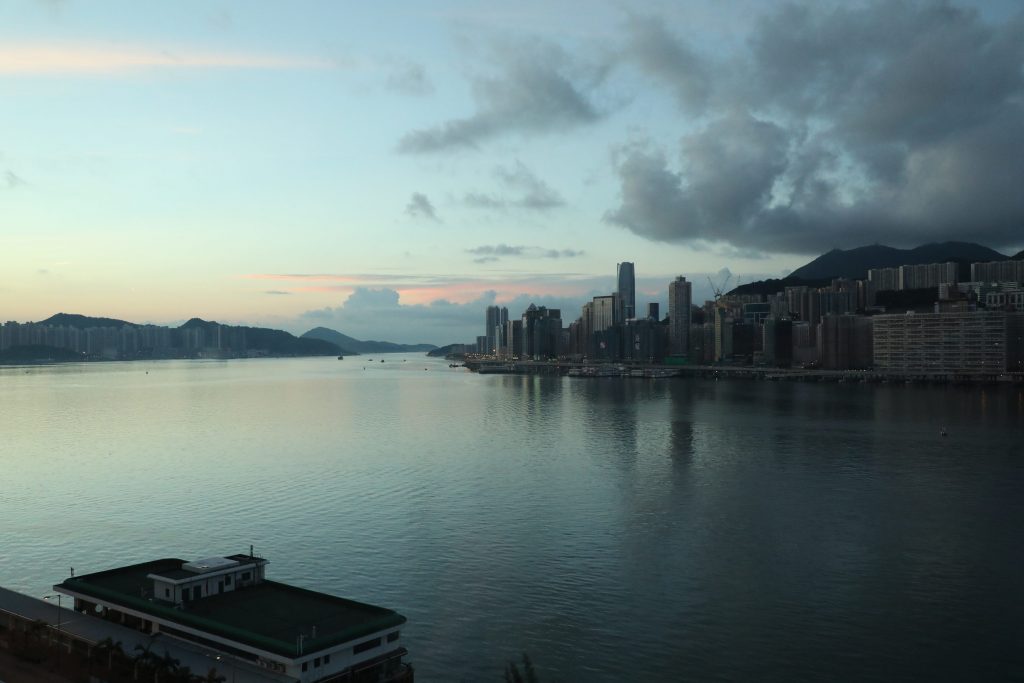 One of the best meals I had this year was at Hung Tong, a traditional Chinese restaurant serving authentic Cantonese cuisine. Like most other restaurants in Hong Kong, Hung Tong's menu is absolutely massive and picking my meal took well over 15 minutes. Hung Tong offers a wide selection of dim sum, Cantonese style roast meats, congee, and superb desserts. The restaurant setting is opulent with dimmed lights and stunning views of the harbor. Guests are seated in large leather seats and are surrounded by raw red bricks with the decor resembling the heritage of Hung Hom – the area of Kowloon where the hotel restaurant is situated.
If you opt in to lounge access like I did, you will also have access to breakfast and a wide range of snacks and hors d'oeuvres throughout the day (including this amazing fresh honey!)
The Kerry Hotel is one of the few properties I've visited where I can genuinely admit that I got so much "bang for my buck". If you are planning on coming to Hong Kong, I cannot recommend it enough.
Want more Hong Kong scoop?