I spent the last few months exploring different parts of Florida primarily because I am genuinely tired of South Beach. If I want to party, I'll go and party – but I don't want to live in the middle of a party, which is what South Beach has become. So far I've been to Bal Harbour, Amelia Island, Orlando and recently checked off Key Biscayne from my list. Florida never ceases to amaze me and I am eager to continue exploring all that it has to offer. By using these 40 ways to save money, I open up the door to a little bit of luxury on every trip. The Ritz-Carlton Key Biscayne was particularly attractive to me because it has the look and feel of a real resort; it's a large, well-kept property with two huge pools, a spa, a world class tennis court, and a multitude of beach activities. The most memorable part of my stay was undeniably the fantastic dining experience I had (two times over). 
The Property 
Key Biscayne is an island that lies just south of Miami Beach – an Uber ride takes twenty minutes and as little as $13 (using Uberpool) to get to the famous Art Deco district in Miami. Uber in Florida is one of the cheapest I've seen anywhere which makes Florida that much more desirable – the less money I spend, the happier I am.
The Key Biscayne property embraces the spirit of a Caribbean resort but remains in such close proximity to Miami Beach. While the resort takes pride in its family friendly atmosphere, there are many secluded and private areas that appeal only to adults like the large heated adult pool separate from the rest of the resort.
Like all the Ritz-Carlton's I've visited, the Key Biscayne property leaves you with little reason to leave the resort. There is a world class spa, a gym (with a personal trainer), two huge pools, a whirlpool, four restaurants, eleven tennis courts and a golf course just minutes away. The water in Key Biscayne is not at all like the water in Miami Beach – patches of crystal blue appear only in some areas of the navy blue Atlantic Bay. Luckily, if you prefer the crystal blue waters, it's just a 20 min cab ride away. If you stay at the property,  you can enjoy a multitude of complimentary water activities like kayaking, sailing, and paddle boarding.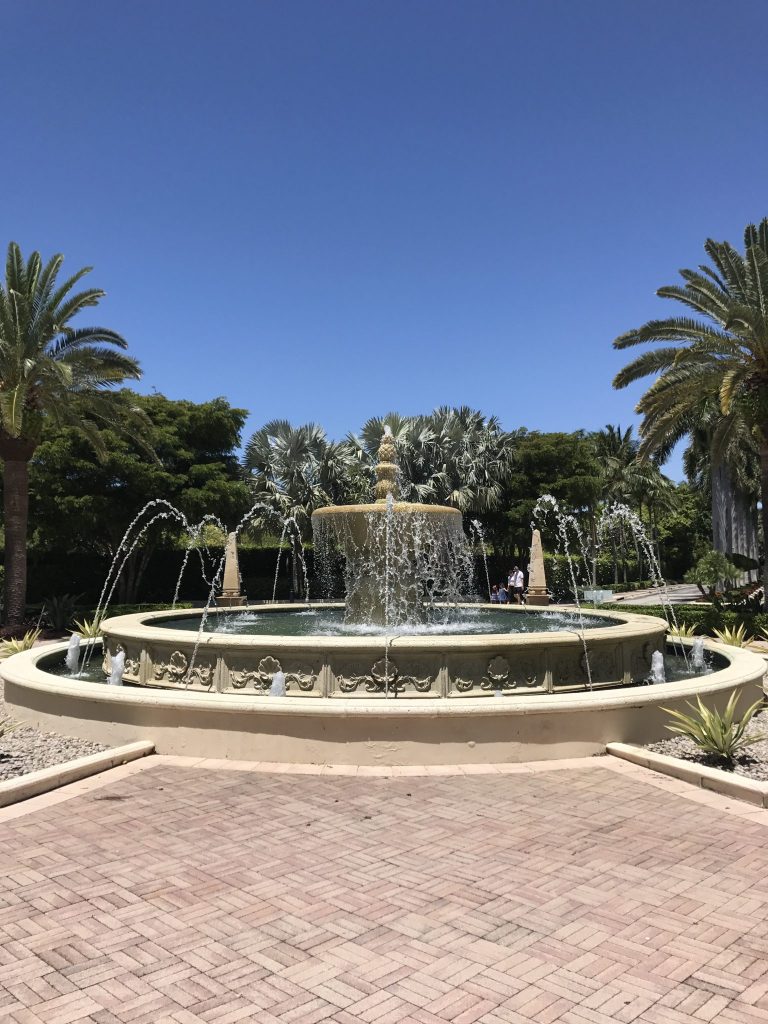 It's really quite incredible the way the property was designed – the way the sun shines into the lobby window and its reflection off the marble pillars creates a euphoric atmosphere that I can't translate into a picture. The common consensus among guests, however, is that the staff members are what truly make this property exceptional. It's true – from the doorman, the concierge, the front desk, room service, to the restaurant staff … the service was absolutely impeccable. You can tell that everyone is incredibly hard working and their top priority is to make sure that your stay is excellent.
My room was on one of the highest floors where picturesque views of the ocean greeted me on one side, and a glimpse of Miami Beach far in the distance on the other side.
The spa center alone can give you all the reason to stay on the resort. It is HUGE. There are steam rooms, sauna's, whirlpools, vitamin C showers, and over 20 treatment rooms with a wide variety of signature services available. When I arrived at the property, the weather was gloomy so the complimentary spa facility certainly came in handy. It was easy to make an appointment for treatment likely because the resort was not at full occupancy – and my signature facial left my face glowing. The staff members seemed very proud of the facility and were genuinely happy to see guests enjoying their time.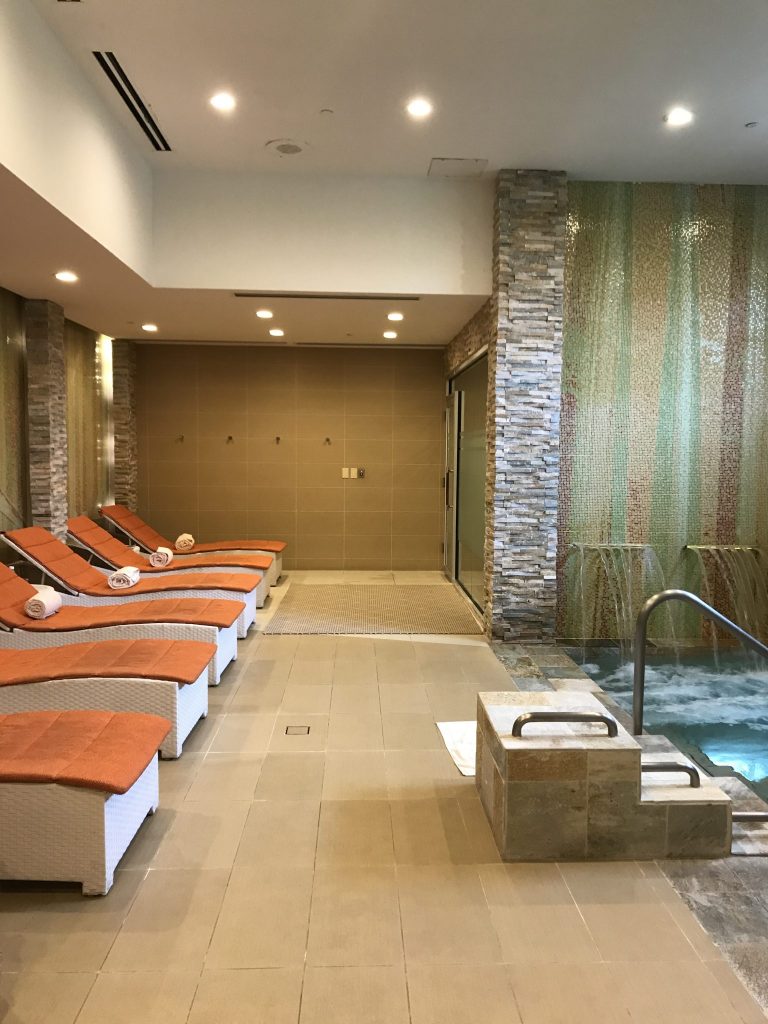 Dining 
Club Level Dining
One of the things I love about all Ritz-Carlton properties is the Club Level. Essentially, this is a lounge where guests can relax and enjoy three meal presentations per day, light snacks in between and a variety of drinks (soft drinks, coffee, tea, wine, champagne, beer, cocktails, etc). I cannot rave enough about this option – you can virtually eliminate the need to eat anywhere else. Breakfast is the largest meal that the Club Level lounge offers; oatmeal, pancakes, sausages, omelets and waffles made to order. For lunch, a variety of soups sandwiches and salads. Dinner resembles somewhat of a tapas bar, with small variations of food that collectively are sure to fill you up. Club Level access is worth it if you eat all three meals during the day and if you drink alcohol – as alcohol per glass gets pricey in restaurants, at the Club Level you can drink, well, all day (although, I advise against this!)
Lightkeepers
As a native New Yorker I can judge a fine looking brunch. In New York, bottomless brunch has been a popular social event on Sundays for years so I was eager to try it out in Florida. Lets just put it this way, at Lightkeepers for a $90 per person price tag, you can eat hundreds of dollars worth of caviar and even more unlimited champagne. Bottom line: it's worth it.
Some of the unlimited things that you can get during this self-serve brunch include (but are not limited to) Sushi, Korean short ribs, seared salmon, grilled grouper, snow crab, blue point oysters, pouched shrimp, Peruvian chicken, clams, mussels, soft shell crab  and over a dozen more delectable choices.
And yes, you read that correctly: its unlimited wining and dining. I didn't even have the chance to finish my glass and the refill was already poured.
Although there was little room left for dessert, I can't forget to give it a mention. The unlimited dessert menu certainly did not disappoint either: the selection includes S'mores pie, lemon meringue, raspberry basil cake, truffles, macaroons, cherry creme brulee, rum cake and more.
Cantina Beach
I stayed the Ritz-Carlton Key Biscayne the weekend of Cinco de Mayo – as you can imagine, the only Mexican themed restaurant on the property had quite the celebration! Guests were each given three tickets that could be exchanged for tacos and alcohol at the Cinco de Mayo celebration. Cantina Beach is a casual ocean front resort that serves authentic Mexican flavors and a wide variety of tequila. It is also the area's only Mexican restaurant. Large lounge chairs, a tiki bar, and tables decorated in different hues of red and orange are situated alongside the beach and the pool. At night, the lights interchange in variations of blue and purple which sets a vibrant yet relaxing dinner vibe.
Rooms start at $220 a night