Island treasures come in different shapes and sizes; a striking coral reef overpopulated with rainbow colored fish, a crisp ice cold Piña Colada, a lonely beach hammock, paddle boarding into the sunset … so what if I told you that everything you can possibly imagine (& more) is right here at The Ritz-Carlton St Thomas. 
My obsession with St.Thomas has grown over the last year and it is arguably one of the handful of places that I long to re-visit every year. This year I was lucky enough to stay in one of the most luxurious locations that this pretty little island has to offer, and now I am certain that I will return every year. You'll see why in a second.  
Nothing strikes you quite as much as the view. After traveling so often I can unapologetically say that I almost always "judge a book by its cover" and there is no greater feeling than walking into a room with a jaw dropping view. When I walked in, I started scrambling to pick up my jaw from the floor, and I knew that I couldn't be any closer to paradise than I was at that very moment.
Yes, the tub does fit two – in case you're wondering !
There are 180 guest rooms, 19 suites, and 4 presidential suites at the Ritz-Carlton St. Thomas. Every room is spacious (450 sq ft) yet cozy, and has a private terrace or balcony. Everything you can possibly need you will find in your room: toothbrush, toothpaste, shaving kit, sewing kit, you name it! Featherbed duvet & fine linens & a nespresso machine ? I am sold. 
I want to give a massive mention to all the staff members that work at the Ritz-Carlton property. From the second I stepped foot into the main entrance, I felt like a princess. I find that in general people in St.Thomas are happy and beaming. One of the reasons I love coming there so much is because there is no obvious separation of power or wealth. The less fortunate and the wealthy can live on the same block and eat in the same places … the care free, laid back Caribbean lifestyle is really everything a big-city girl like me can ever only dream of having. As a matter of fact, I met so many people that left their corporate jobs and came to St. Thomas to live the breezy and easy-going island life. At the Ritz-Carlton, the positive energy from the staff members really left me with no choice but to smile from ear to ear all day long. The latter is a huge, HUGE, differentiating factor of the resort.
While I strongly urge you to leave the resort and explore St.Thomas as well as its neighboring islands (I'll get into that in a bit), it's nice to know that you have a multitude of things to do to keep busy as soon as you step out of your door. Hotel guests get to enjoy uses of paddle boats, kayaks, hobie cats, windsurfers, & snorkel equipment free of charge (other resorts typically charge an additional fee for equipment). You can even opt in for a scuba diving lesson. There is a beautiful infinity pool, a Jacuzzi, beach cabana's, & as a guest you also have access to the Great Bay & Coconut Cove.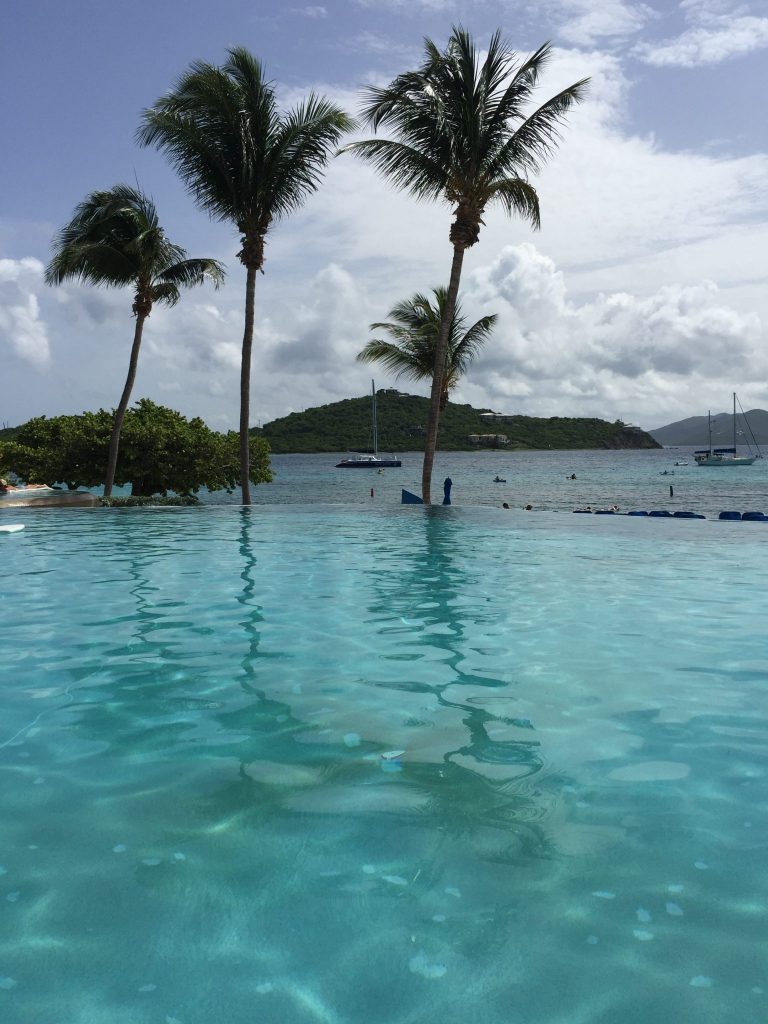 If that doesn't sound like it's quite enough – The Resort also has a full fitness center and spa, or you can take a short car ride to the Mahogany Run Golf Course for a day of golfing in the Caribbean breeze. The Ritz-Carlton is also home to the Lady Lindsey, a 53-foot luxury Catamaran that can take you anywhere from snorkeling with the sea turtles to a sunset dinner sail for a $160 per person. And you can relax … there is an entire itinerary planned out for kids with a strong emphasis on learning about and interacting with the local environment. 
What I really loved the most came at absolutely no additional cost: the sunset. I've watched the sunset from all over the world and no sunset is quite as special as the one in St. Thomas, where peach and lavender hues hang over the neighboring islands as the sun hides behind the hills. 
When I said earlier that you practically don't have to leave the hotel grounds – I meant it ! Partially because of the number of food choices available at The Ritz-Carlton. There are four restaurants at the Ritz-Carlton St. Thomas: Bluewater, Essenza, Coconut Cove, and Sails. There is also a coffee shop called Zest. I was lucky enough to have a phenomenal dinner at Bluewater & an unforgettable lunch at Sails.
Although relatively small, the menu offers a diverse assortment of options & an impressive wine book. I appreciate the way that every dish was prepared with a local twist – the restaurant didn't diverge from the island's roots but rather incorporated them into an otherwise common dish. Important to note that the staff was absolutely fantastic and even though the attire is resort casual, I felt like I was dining at a Michelin starred restaurant. 
For lunch, I highly recommend Sails. The shrimp pizza was a special for that day, but I actually emailed the hotel begging them to put it on the permanent menu (true story) ! The food at sails was absolutely fantastic & since it is situated right in the middle of the resort grounds, you get to enjoy lunch with some of the best views of the pool, the turquoise waters, and the neighboring islands in the distance.
Here is how the Ritz Carlton St.Thomas really stands out: 
As one of the most romantic experiences imaginable, you can enjoy a very private, remarkable dinner on the beach. Enjoy nothing but each other and the soft sound of the waves as a person butler takes care of your every need for the night. From candles to a private musician – your dinner can have it all. The Ritz-Carlton also offers a family bbq on the beach upon request. Reservations for both options are required and should be made at least 48 hours in advance. 
Undoubtedly St. Thomas is my favorite island in the Caribbean. St. Thomas and its neighbor's like St. John and the British Virgin Islands will keep you busy all day and leave you with a lifetime of memories. I strongly encourage you to explore outside of the resort grounds – you will not be disappointed! Cab's around the island are typically between $5 and $10 a person.
Snorkeling in St. Thomas – 
Aside from guided snorkeling tours offered on the island, you can also visit Coki Beach and snorkel for free (just bring your gear or rent it for $5). I discovered this beach by accident & it turned out to be one of my favorite places on the island! Coki Beach is a local hot spot and aside from being a phenomenal snorkeling place, it is also home to some of the best Caribbean food I've ever had !
St. John's –
Some of the world's most beautiful beaches are said to be in St. John's – just a 20 minute ferry ride away from St. Thomas. A few of my favorite beaches are Honeymoon Beach, Trunk Bay Beach, Cinnamon Bay & Maho Bay Beach (Maho Bay Beach is best known for sea turtle snorkeling !)