The history of America's wine production spans across a mere 300+ years. Although wine is made in virtually every state, the West Coast regions of California, Oregon and Washington hold the reigns of over 90% of America's wine production. There is a fairly high chance that you've heard of Napa Valley – the Vegas of all wine regions. With limousine wine tours, luxury hospitality, and Michelin restaurants, Napa attracts everyone from newbie millennial wine tasters to seasoned wine connoisseurs.  Right next door to Napa is Sonoma County which, despite having less mass media attention, is just as good as Napa. In fact, it is the largest producer of wine in California!
You don't have to be a wine connoisseur to enjoy a weekend of wine tasting. Most vineyards offer spectacular scenery, events, finger foods … and alcohol. Like a picnic on steroids. Wine tasting is perfect for any special event: birthdays, bachelor/bachelorette parties, graduations, milestones or simply a best friends getaway is sure to memorable with the right dosage of fermented grape juice. After visiting Napa Valley four times I decided to detour to Sonoma County and I spent my day at Rodney Strong Vineyards. Here is a recap of my wine fueled day and why you should visit, too!
My day begins on a cool Saturday morning in San Francisco. The weather in March is tricky in SF with temperatures as high as 75 F in the daytime and as low as 30 F at night. The drive time from San Francisco to Sonoma is just over an hour and it is a scenic ride with abundance of vineyards, large and small. Rodney Strong Vineyards is a a stunning property overlooking the mountainside and emerald green blankets of grape vines. When you visit a winery, you want to be in a relaxing environment; one where there is much to see and with places to sit in peace and serenity. A winery visit shouldn't start and end with merely a tasting, it is an experience from start to finish.
Rodney Strong was founded by a prominent American dancer, Rod Strong. His exceptional talent awarded him a successful career in dance, including four years of training in Paris. During his time in Paris, Strong became somewhat of a connoisseur of French cuisine and his culinary and winemaking passions brought him on a new journey as a winemaker in Sonoma County.
A tour of the winery lasts nearly an hour and you will hear about everything from the soil to the harvesting process while sipping on a glass of wine fresh from the oak barrel. Tours are an important part of the experience as they provide the most insight into the values and practices of the winery, and it's an intimate way to learn and see the areas of the typically closed off to the public.
I won't go into much detail about the winemaking process in this post, however I can assure you that after learning how much care, attention and precision goes into every sip that you take – you will undeniably have a newfound appreciation for wine as a whole.
"Crafting fine wine means matching the right grape with the right soil, rootstock, trellis system, row orientation, slope, and pruning regimen. After that, although there's plenty of nurturing to do throughout the year – it's nature that does the rest." – Doug McIlroy, Director of Winegrowing
Outside you can indulge in a wine flight paired with fresh greens from the garden, cheese and other delicious finger foods. There are also seasonal food & wine pairing events. You know what they say, "Wine and cheese are ageless companions, like aspirin and aches, or June and moon, or good people and noble ventures."
In the summer, Rodney Strong hosts a series of concerts by world renowned stars from the rock scene to contemporary American pop. Rodney Strong is not the kind of winery that you only visit once for a tasting – it is the type of place that you keep returning to not just for it's food and wine, but for its ability to host you for a delightful time.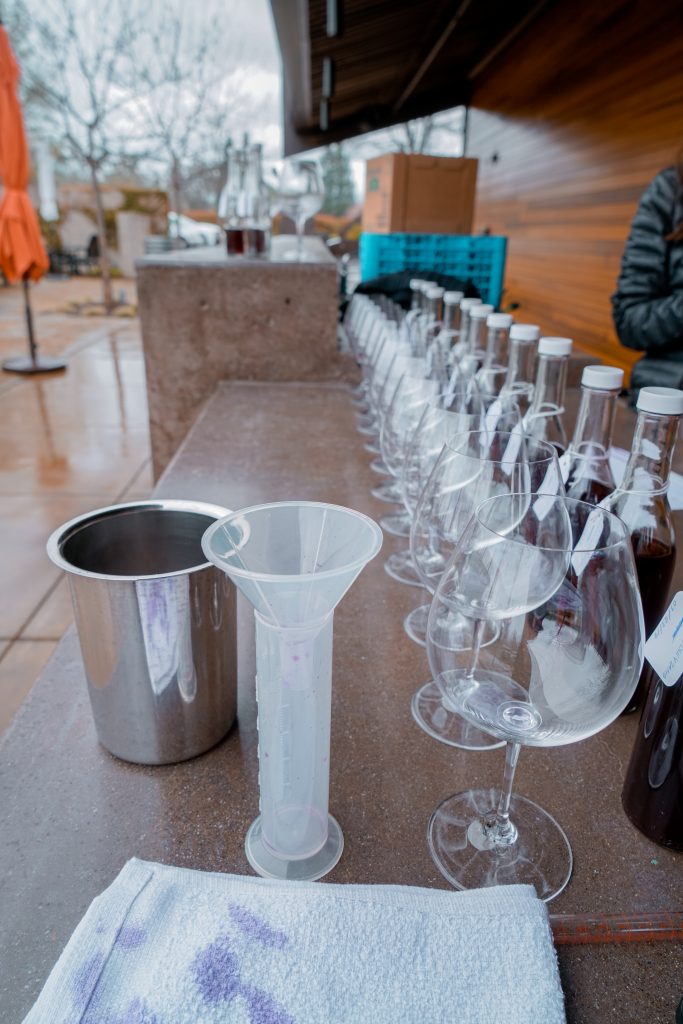 All in all, more important than the food pairing is the person with whom you drink the wine!